Bidding Wars Intensify for Entry Level Homes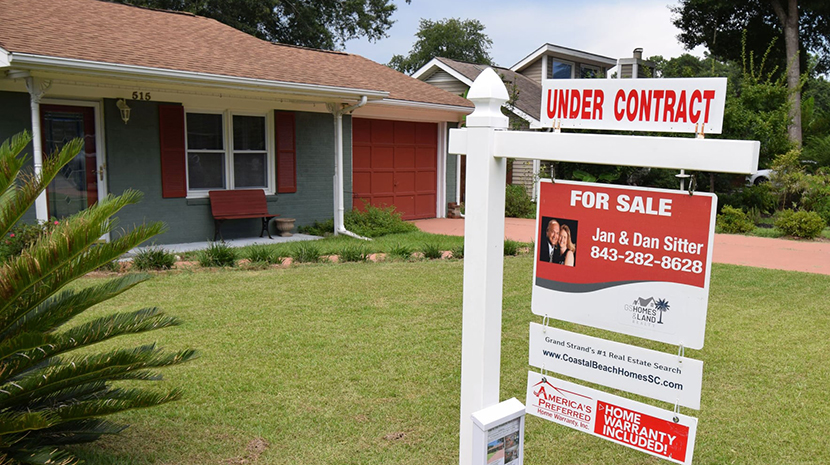 Redfin, Seattle, said bidding wars eased up slightly in September, but more than half of properties saw competitive bids. A separate report from Zillow, Seattle, showed the most intense competition was for entry level homes.
Redfin reported 56.3% of offers on its represented homes faced competition nationwide in September, down from a revised rate of 59.1% in August, the first decline in at least five months. The report said a majority of offers still encountered bidding wars for the fifth month in a row, indicating that competition remains intense in many parts of the country.
"The slight decline in bidding wars is largely a reflection of a seasonal cooldown, which typically starts in the late summer but was delayed by a few months this year," said Redfin Chief Economist Daryl Fairweather. "But homebuyers are still sweating as they navigate what remains an unseasonably hot seller's market."
The report said Tampa, Fla., had a lower rate of competition than any other metro area in this analysis, with just 26.3% of offers facing bidding wars in September, down from 54.1% in August. Rounding out the bottom three were two other southeastern markets—Miami, which had a bidding-war rate of 38%, and Raleigh, N.C., at 41.4%.
Salt Lake City had the highest bidding-war rate, with 81.1% of Redfin offers encountering competition. In second place was San Diego, at 69.1%, followed by San Francisco/San Jose, at 67.4%.
"Salt Lake City has been going crazy," said local Redfin real estate agent Dean Cotter. "If I have a house in reasonable condition priced at the average price range, it gets multiple offers and is gone in a weekend."
Redfin said single-family homes were most likely to encounter bidding wars in September, with 58.9% of Redfin offers facing competition, followed by townhouses, at 56%. Meanwhile, just 40.5% of offers for condos experienced bidding wars. T
"Condos are not selling as fast as they used to," said Mary Bazargan, a Redfin real estate agent in Washington, DC. "Single-family homes are selling fairly quickly as long as they're priced right. The homes we price correctly or a little conservatively are getting multiple offers. The ones that push the price aggressively high are sitting on the market."
Meanwhile, Zillow research showed many homes sold just days after hitting the market in September, regardless of price, with the typical U.S. home going under contract in just over two weeks. This is one day quicker than August and 44% faster than a year ago, and significantly faster than even a typical spring selling season.
"May is when the market is usually the hottest, but homes this September moved six days faster than they did in May 2019," the report said.
And while speedier sales were common across all price ranges, lower priced homes typically sold the fastest. Entry level homes priced between $186,000 and $260,000 were snatched up most quickly, going under contract at 14 days, six days faster than the same time last year. Mid-market homes (between $260,001 and $344,000) were not far behind that pace, selling in 16 days; the most affordable ($185,999 or less) typically took 18 days to sell this September, in part because that group tends to include more fixer-uppers.
Zillow said the most expensive homes ($488,000 and up) are staying on the market the longest, going under agreement in 33 days. One factor driving up median list prices as expensive homes stay on the market longer than less expensive ones. Homes at the top of the market commonly take longer to sell than less expensive homes, with fewer buyers in that price range. But, despite lingering economic and unemployment uncertainty, homes at the top of the market are still selling two weeks quicker than the same time last year.
"Normally, the housing market begins to slow down around this time of year as the weather cools and buyer activity fades, but it's 2020, and nothing is normal this year," said Zillow senior economist Chris Glynn. "Instead of slowing down, we're seeing the housing market continue to speed up as autumn continues. The buying season we're seeing this fall more closely resembles peak market activity we'd see in the spring in a typical year. It remains to be seen whether the 'traditional' buying season continues to be pushed back because of Covid-19 and activity will taper off in coming months, or whether historically low inventory and continued strong demand mean homes will continue to sell incredibly quickly through the rest of the year."
Zillow said the days-on-market spread between the most and least expensive homes is tightening, signaling broad demand. During a normal year, that spread is typically tightest in May and widens by 10 days by September. However, , it only took five more days in September to sell the most-expensive homes than it did in May, about half of what is usually expected for this time of year.
In many metropolitan areas, the spread between days on market for the most and least expensive homes is even tighter. Zillow reported essentially no difference in days on market between the top and bottom price tiers in the Salt Lake City, Seattle, Pittsburgh and San Francisco areas, where the bottom of the market sold just two days faster than the top.
Among the 50 largest markets, homes sold fastest in Columbus, Cincinnati, Kansas City and Indianapolis — all going under contract in five days or less. The metros seeing most days on market are Nashville (36 days), New York (28), Virginia Beach (28), and San Antonio (27). Buffalo is the only market seeing the opposite trend, where the most expensive homes sold 34 days faster than the most affordable.