Amid Coronavirus, mPower Also Adapts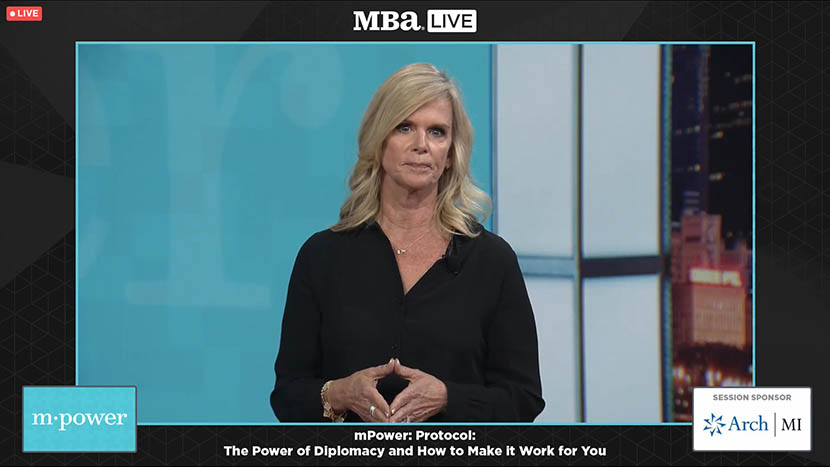 (MBA Chief Operating Officer and mPower Founder Marcia Davies.)
MBA Chief Operating Officer Marcia Davies recognized early on that one of the most powerful elements of mPower events was social. Nine months into the coronavirus pandemic, she knows the mPower community is more important than ever.
"2020 changed everything, and suddenly we couldn't be together," Davies said. "The connections that formed the foundation of this community became harder to keep up. The energy and excitement that define mPower events disappeared overnight. And it's been a loss for all of us."
mPower, founded by Davies in 2015, now boasts 24,000 members and is the largest networking platform for mortgage industry women in the U.S. Its yearly day-long summit, held in conjunction with the MBA Annual Convention & Expo, attracts hundreds of mortgage professionals and featured keynote addresses, interactive workshops and, most importantly, the ability to network in person with colleagues.
But the coronavirus put a kibosh on that this year. "Frankly, it's been tough," Davies said. "I've missed all my time with you, and I know you've been missing your mPower connections, too…women in the workplace have been dealing with more responsibility and less support."
Now, Davies said, the mPower community has new meaning. "Our connections with each other are more important than ever," she said. "This community exists to help overcome the challenges we face. And we are facing a hell of a lot of them right now. If we want to come out of this, we need to connect with each other. We need to talk to each other."
Davies urged mPower members to send a text, an email or make a phone call to colleagues. "Make the time," she said. "This is the time to connect. Because this community is the key to finding the resilience we need to come through this stronger than ever."
Davies said it is more important for women to stand together now than ever. "The COVID-19 pandemic has made it harder to build the connections we crave," she said. "But it's also shown just how important those connections truly are. They give us the strength to carry on and break down any barrier in the way. And that is what mPower is all about. It's why we need to stand up, step forward and support each other in every way we can."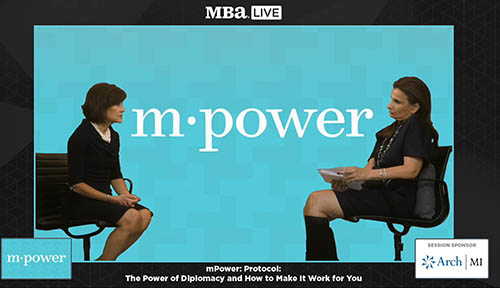 During the mPower event at the MBA Annual Convention & Expo, Capricia Marshall, who served as White House Social Secretary and Chief of Protocol during the Clinton and Obama Administrations, discussed the importance of diplomacy in all workplace situations.
Marshall noted that on several occasions, the Administration hosted foreign leaders with whom the United States had ongoing disagreements. She stressed that protocols dictated that all situations be treated equally and with respect.
"We are probably going to engage in some difficult discussions," Marshall said. "We are going to ask them some tough questions they may not want to address. So, it's important to create an environment that is civil and conveys generosity."
Marshall, author of Protocol: The Power of Diplomacy, said many people have a tough time making critical connections. "Civility matters," she said "Heartfelt gestures can make a huge difference. Knowing the rules of social etiquette can also be an empowering thing to learn and to utilize in your everyday interactions."
Marshall said planning and preparation is crucial for any event. "If you ignore it, you'll find that you'll hit a hole along the way that's going to set you off course and prevent you from achieving your goal," she said. "It's also important to find something that symbolizes the moment, or conveys the importance of the event. And make sure the room is 'rigged' to influence and reinforce your goals."
Protocols can also help adapt to the new business reality of the coronavirus, Marshall said. "It all comes down to preparation," she said. "Before you turn that Zoom camera on and enter that 'meeting room,' you want to be sure you've got everything buttoned up. If this meeting is important enough to take someone's time, make the effort."
Women in particular, Marshall said, are in a "constant state" of negotiation. "We are always trying to persuade others to our way of thinking, and it's hard," she said. "Find someone in your life who can be a mentor to you. I was very lucky in that Hillary Clinton was a mentor to me…having someone like her that I could rely on was incredibly helpful."
During her career, Marshall often found herself in positions in which women were treated as inferiors. "It's important to be diplomatic without deferring power," she said. "We do know that in many parts of the world—and I daresay in many parts of the U.S. as well—women are expected to sit in the back row, and they're not supposed to sit at the table. You have to make sure your position is held firm—that you take that center seat; that you take the podium; that you give that keynote; so that they know you are in charge, and that you convey that appropriately."