MBA Annual20 Begins Today

The Mortgage Bankers Association's first-ever virtual Annual Convention & Expo kicks off this morning, Oct. 19 and runs through Wednesday, Oct. 21.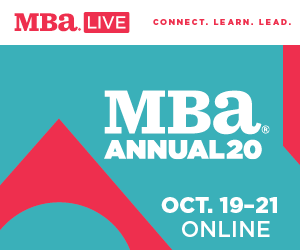 With busy schedules in mind, MBA LIVE offers the flexibility to catch up on-demand and access content even after the event has concluded. MBA has always delivered the information you need to help your business succeed, and this year is no exception. Connect whenever you want, from wherever you want.
The speaker lineup includes a presidential historian (Jon Meacham), civil rights icon (Andrew Young) and baseball legend (Ron Darling), among others, while concurrent sessions address today's most pressing topics and issues. Policymakers include HUD Secretary Ben Carson; Federal Housing Finance Agency Director Mark Calabria; and Consumer Financial Protection Bureau Director Kathy Kraninger, as well as representatives from Fannie Mae and Freddie Mac. Attendees will also have access to unique platforms allowing for engagement with exhibitors, sponsors and fellow attendees. It's the industry's most anticipated event of the year, re-imagined for today's environment.
With no travel required, the virtual experience provides a great opportunity for more members of your team to attend.
For more information, click www.mba.org/annual.