Broeksmit: 'MBA Was Made for Times of Crisis'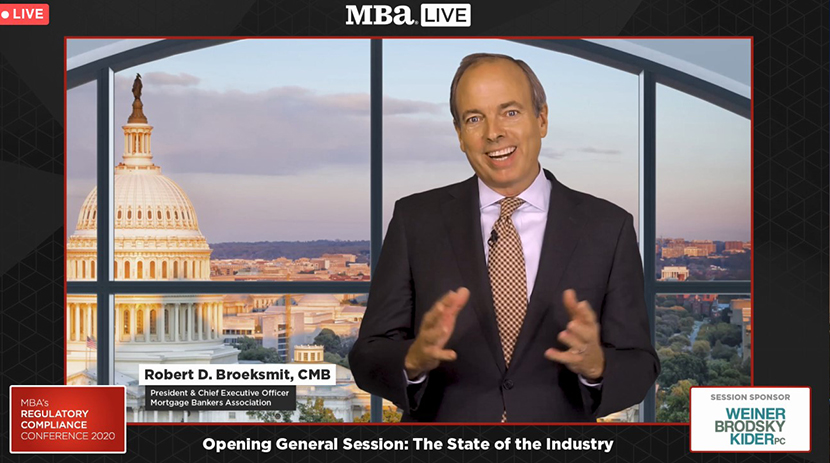 (MBA President & CEO Robert Broeksmit, CMB.)
In remarks this week during the Mortgage Bankers Association's virtual Regulatory Compliance Conference, MBA President & CEO Robert Broeksmit, CMB, said the extraordinary events of 2020 have tested everyone's mettle—including that of MBA.
"Since we last met for this conference, in September 2019 here in D.C., our country has been turned upside down," Broeksmit said. "The coronavirus came out of nowhere and then spread everywhere. Virtually overnight, the economy ground to a halt. Millions of Americans lost jobs. Too many lost loved ones. Many in our industry have experienced some kind of loss."
The coronavirus—and subsequent economic downturn—challenged the mortgage industry at a time when the housing market was just beginning to show signs of strength. And while unemployment remains high and 2.8 million households remain in mortgage forbearance, Broeksmit said MBA—and the real estate finance industry—pivoted and adapted quickly.
"From the start of this crisis, it was clear that mortgage banking would get hit—hard," Broeksmit said. "MBA hit back, with action and accomplishment. I am pleased to report that our industry has not only survived this crisis, we have thrived. MBA's tireless work on your behalf has empowered you to persevere through this pandemic and lead the economic comeback for America itself."
Broeksmit said MBA "was made for times of crisis."
"This feat is possible because of the work we've done over the past seven months," Broeksmit said. "In March, we shifted our priorities in a way and at a speed I've never seen. Before, we were celebrating our success on limiting False Claims Act enforcement. We were making progress on issues like the QM Patch and housing finance reform. All these issues fell to the wayside in March. That's when we all realized that our industry faced an existential crisis. Even now, it's tough to fathom how many challenges we faced in short order."
Broeksmit said this is when MBA's hard work of building relationships really pays off. "We know who to call – whether at the White House, Congress, the CFPB, FHFA, or any other federal agency or even state government. Equally important, we've built a bank of trust with the people who matter most. When we call, they pick up the phone and listen. That's exactly what we did. We tackled every problem as it arose. And we found solutions to virtually all of them."
To start, MBA made sure that home sales could continue without a hitch. "We worked with FHFA and the GSEs to enact flexibility in loan originations," Broeksmit said. "In short order, we secured alternative avenues for appraisals and employment verification for Fannie and Freddie loans. The FHA, Department of Veterans Affairs, and the Rural Housing Service soon provided similar guidance on appraisals and other origination issues. We also worked with FHFA to expand the use of powers of attorney and remote online notarizations for loan closings."
One of the biggest challenges many companies faced was liquidity. "We successfully urged FHFA to allow the GSEs to offer more dollar-roll transactions, giving you additional access to short-term funding," Broeksmit said. "We partnered with Ginnie Mae to set up its Pass-Through Assistance Program. You now have better access to private credit, better advance requirements, and faster reimbursements of servicer advances from Fannie Mae. And we continue to work with FHA to provide faster reimbursement on tax and insurance payments."
MBA also made major headway on forbearance relief. When Congress was about to pass costly forbearance mandates, exposing your companies to huge legal risk, we intervened," Broeksmit said. "We spoke with key lawmakers and got eleventh-hour revisions that saved the day. When state legislatures proposed bills that would have severely injured our lender and servicer members, we mobilized to defeat or improve them. We achieved remarkable victories in California, New York, Colorado and the District of Columbia."
For MBA, Broeksmit said, the past year is a case study in success. "Think of where we were in March," he said. "We were looking at the worst year in a decade, if not longer. Now we're on track to exceed $3 trillion in originations for the year, the highest volume in more than 15 years. We'll have more home purchase originations than we did in 2019, and that was already an outstanding year. Many of our members now expect record profits in 2020. Unlike the last crisis, the housing market, your companies and our industry are at the forefront of the recovery. Your companies and your customers are the engine that will power America back to brighter days.
In the days ahead, Broeksmit said, MBA will continue its focus on three issues—the first being the QM Patch. "Three weeks ago, the CFPB issued a final rule to extend the patch until it is replaced in the near future," he said. "We are very pleased with the rule's direction, and it reflects a significant amount of MBA input, including the elimination of the stand-alone DTI ratio, and with it, the unworkable Appendix Q. We have been in close contact with the CFPB through the pandemic, and we will see this through to a successful finish."
The second issue is housing finance reform. "FHFA Director [Mark] Calabria is still pushing for Fannie and Freddie to exit conservatorship as early as next year," Broeksmit said. "It is unclear how long he will remain in office to see his plans through, but MBA is striving to ensure that if and when release occurs, the reforms of recent years are preserved. Our primary focus remains a level playing field for pricing and underwriting for lenders of all sizes and business models. We are especially focused on meeting the needs of Independent Mortgage Banks. Among their many important roles, IMBs are essential to serving low-and-moderate income and minority borrowers."
The final issue is minority homeownership. "We are devoting more attention to this cause than ever before," Broeksmit said. "We are strengthening our affordable housing initiative and working with HUD, FHFA and many other public agencies and private organizations to enact necessary changes. While our focus on this important issue predates the pandemic, its urgency has only been underscored by recent events. The needs and challenges are greater than ever."
Now, with the prospect of a new Administration in Washington next year, Broeksmit said MBA is ready. "MBA has been preparing for any potential outcome for a long time," he said. "We have always maintained productive relationships on both sides of the aisle. That constructive approach will serve us well, and we're committed to working with policymakers in both parties to make sure all Americans are represented in addressing the important issues around real estate finance, homeownership and affordable rental housing. Thankfully, many of these issues carry with them broad, bipartisan support. MBA will engage on all fronts – legislative and administrative, federal and state – in support of the interests of our members and the customers they serve."