With Elections Looming, Sharp Divisions in the Political Landscape, But Hope for Common Ground
The 2020 elections are less than six months away—and political divisions in America appears to be more prevalent than ever. Judging from appearances yesterday at MBA Live: State of the Industry, that won't change soon.
Sen. Todd Young, R-Ind., who identifies as "centrist," said as much. "Not every election is about policy—sometimes it's about personalities—but I think this election is going to be about the competing visions of the two parties, and I can't remember a time when those visions [Democratic and Republican] have been more different," he said. "It's clear that we are now in the phase in which both parties have established what they see are their legislative priorities. And those priorities are very different."
Young got little argument from Sen. Kyrsten Sinema, D-Ariz., who sits on the Senate Banking Committee. But she said voters deserve better. "The partisanship we see on Capitol Hill right now suggests that we can go only one way, or the other. This is false," she said. "To restore the economy, we have to work together and cross party lines for shared goals. Every moment that's wasted on petty politics threatens the welfare of millions of Americans."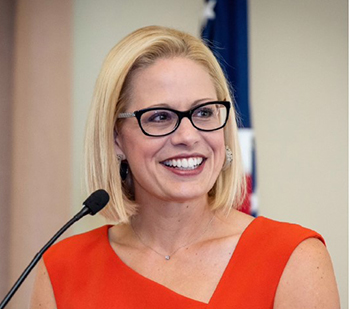 Much is at stake this November. All 435 House seats and 35 Senate seats—an unusually high number, with two special elections (Arizona and Georgia) included—are in play. And oh, yes, voters will also determine who will be President for the next four years. Following the chaotic results of the 2016 elections, in which conventional polling was turned on its head, few polls appear to be a sure thing at this point, although pundits appear to suggest that the Presidency (Republican) and the Senate (Republican majority) appear to be more in play than the Democratic-controlled House.
Young said looking ahead to the November elections, Senate Republicans have a "daunting" task, defending 23 seats compared to the Democrats' 12 seats. "But we have really strong candidates," he said. "It's going to be advantageous to be an incumbent. The favorability of Congress has risen, as have the numbers for those who are running for re-election…this is the time for us [Republicans] to grow our tent."
Young said he hoped voters remember the Republicans' efforts to reduce regulations and taxes. "I am concerned that we can have a Democratic House, a Democrat in the White House and a potentially Democratic Senate," he said. "I am concerned about the path the Democrats, unfettered, would take this country."
Sinema said she is more focused on economic solutions. "No matter which party is in power, my priorities won't change," she said. "I will literally work with anyone to help the constituents I serve.
Sinema says whoever is in charge of the Senate Banking Committee in January "will have to put the economic recovery ahead of anything else. It's going to require a bipartisan approach. A bipartisan approach yields good results; it's what Arizonans expect and it's where I will focus."
But how does one accomplish that in this age of polarization? "Legislators should use the same formula that's worked before," she said. "We need to roll up our sleeves and work with each other to do what needs to be done."
Pulitzer Prize-winning journalist Bob Woodward, speaking with MBA Chairman Brian Stoffers, CMB, said regardless of who wins the presidential election, he (presumably) will continue to face familiar issues.
"Politicians don't ever want to say, 'I don't know,'" Woodward said "But this is a time of not knowing. Politicians have to be defensive and protective and agile."
Woodward called the 2020 presidential election a "coin-toss," despite current polling showing the presumptive Democratic candidate, former Vice President Joseph Biden, leading. "Most polling shows that President Trump has a 'floor' of support at 42 percent," he said. "There's a common belief that if the sitting President has a floor of 46 percent, he's hard to beat…I think it's going to come right down to the wire."