Dealmaker: Dwight Capital Finances $45M
Dwight Capital, New York, financed $96.7 million in HUD 223(f) loans, $95.1 million in HUD 223(a)(7) loans and $35 million in bridge loans.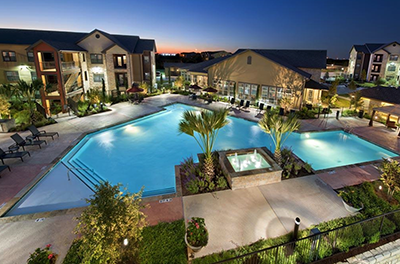 Among these transactions were two HUD 223(f) loans on Oxford at Tech Ridge in Austin, Texas and Whipple Creek Village Apartments in Ridgefield, Wash.
Dwight Managing Director Brandon Baksh and Originator Brian Yee originated $23.8 million for 256-unit garden-style property Oxford at Tech Ridge. Built in 2010, the property has 11 three-story apartment buildings and a clubhouse on 14.5 acres. The mortgage included a 0.25 percent reduced green mortgage insurance premium rate due to the property's energy-efficient status.
In Washington, Dwight Executive Vice President Keith Hoffman originated $20.7 million for 114-unit apartment/townhome community Whipple Creek Village Apartments. The property sits on 12.7 acres in Ridgefield's Mount Vista neighborhood. The loan also achieved a 0.25 percent reduced Green MIP because Whipple Creek complies with Energy Star requirements.
"Whipple Creek is a previously HUD-insured property that was able to take advantage of the current interest rate and property valuation environment to extract equity, reduce their all-in interest rate and lock the new loan for another 35 years," said Hoffman. "We received our HUD loan commitment in only 20 days."
Dwight Capital obtained more than $1 billion in FHA multifamily commitments during the first half of HUD's fiscal year, ranking the firm first among lenders by dollar volume and number of transactions. During this six months between October and March, Dwight received commitments totaling over $676.7 million in HUD 223(f) loans, $322 million in 223(a)(7) loans, $48.5 million in 221(d)(4) loans and $18.1 million in 241(a) loans.