MBA Education Path to Diversity Scholar Profile: Austin Miller
(One of a continuing series of profiles of participants in the MBA Education Path to Diversity (P2D) Scholarship Program, which enables employees from diverse backgrounds to advance their professional growth and career development.)
MBA NEWSLINK: Tell us about yourself.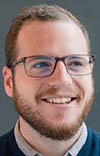 AUSTIN MILLER: I work in Regulatory Engagement & Governance with Blend, responsible for public policy and enterprise risk management, in the business for six years. I have a BS in History from Portland State University.
NEWSLINK: How did you learn about the MBA Path to Diversity Program?
MILLER: Blend is pretty active in MBA, and I heard about the program through ads in one of the MBAs newsletters I subscribe to.
NEWSLINK: What inspired you to become more involved? Did a co-worker/supervisor/mentor encourage your participation?
MILLER: I'm inspired to become more involved in MBA every time I see the impact of our collective action in Washington. MBA represents advancing access to homeownership, a cause near and dear to me personally, and I'm grateful to have been encouraged and supported in my participation in Path to Diversity and MBA's educational programs by Blend's leadership.
NEWSLINK: Did you find the application process to be user-friendly?
MILLER: I found the online application interface to be intuitive and user-friendly, I only wish I could have completed it all online.
NEWSLINK: How has the Path to Diversity scholarship benefited you, personally and professionally?
MILLER: Through Path to Diversity, I've been able to participate in conferences and programs that I otherwise may not have been able to access. These opportunities have not only advanced my career through learning and development, but also have enabled me to grow personally by connecting with other like-minded individuals through the MBA.
NEWSLINK: What have you been able to bring back to your company as a result of the Path to Diversity program?
MILLER: Insights and networking as a result of the activities I've been able to participate in through the program have been incredible value-adds for me to bring back to Blend. Speaking from a time where most of us are isolated from others, I can't emphasize enough the value of connecting with folks across mortgage banking to collaborate on both our similarities and differences in approach to the issues facing our industry today.
NEWSLINK: What would you say to someone considering applying for a Path to Diversity scholarship?
MILLER: If you are hesitating, don't. I think many people experience imposter syndrome when it comes to participating in initiatives focused on diversity, but it's important to recognize that these types of opportunities exist to raise the profiles of individuals who may not fit the mold of those traditionally represented in forums like the mortgage banking industry. Every opportunity to level-up while promoting visibility is almost certainly one worth taking.
***
About the MBA Path to Diversity Scholarship Program
The Path to Diversity Scholarship Program recognizes existing industry professionals who are seeking to advance their careers through continuing education. Recipients receive a voucher to cover course registration fees, up to a maximum of $2,000, for popular MBA Education courses and designation programs. This education opportunity enables employees from diverse backgrounds to advance their professional growth and career development.
MBA recognizes that a strong, responsible and sustainable real estate finance industry requires a workforce that is reflective of our society at large. For more information about the Path to Diversity Scholarship Program, click https://www.mba.org/conferences-and-education/mba-education/path-to-diversity.