Dealmaker: Walker & Dunlop Secures $54M for Multifamily
Walker & Dunlop, Bethesda, Md., secured $54.3 million for multifamily assets in Washington, D.C. and Gainesville, Ga.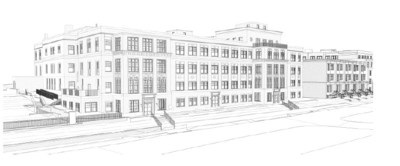 In Washington, a team led by Walker & Dunlop FHA Finance Group Senior Director Rob Rotach structured $10.1 million in construction and permanent financing for Spring Flats, the redevelopment of a historic property formerly known as The Hebrew Home. The mixed-income development will cater primarily to seniors and low-income residents. The project totals 185 units, 88 of which will benefit from the adaptive reuse rehabilitation loan.
The Walker & Dunlop team coordinated capital from 9 percent and 4 percent Low Income Housing Tax Credit equity, loan proceeds from HUD's 231 loan program and cash-collateralized tax-exempt bond proceeds and subordinate debt from the D.C. Department of Housing and Community Development. Financing terms included a 40-year, fully amortizing fixed-rate loan for property co-developers Victory Housing, Brinshore Development and Banc of America CDC.
Constructed in 1925, The Hebrew Home served as a nursing home until 1968, when it was purchased by the District of Columbia and converted into a community health center. Following a decade-long period of vacancy from 2009 to present, the adaptive re-use project will convert the building into new affordable apartment units. Completion is scheduled for summer 2020.
Rotach noted "twinning" 9 percent and 4 percent LIHTCs is becoming a more popular deal structure to maximize the limited resources available to make these types of projects a reality.
Walker & Dunlop also completed the sale and structured $44.2 million in financing for Century New Holland, a Gainesville, Ga., apartment community. Sponsor Centennial Holding Co. also acquired and financed two additional assets, Century Avenues in Lakeland, Fla., and Century at the Ballpark in Lawrenceville, Ga., through Walker & Dunlop's property sales group within the past year. Walker & Dunlop facilitated the sale and financing for all three properties. The three Class A multifamily communities total 860 units.
Managing Director Taylor Williams led the financing team. To mitigate the ever-changing interest rate environment, Walker & Dunlop leveraged Freddie Mac's Early Rate Lock program. The long-term fixed-rate loan included a five-year interest-only period. Walker & Dunlop's property sales team included Managing Directors Brian Moulder and Sean Williams and Director Chris Goldsmith. The group represented the sellers of each property and served as broker and advisor for the disposition.