Coronavirus-Related Initial Claims Top 33.5 Million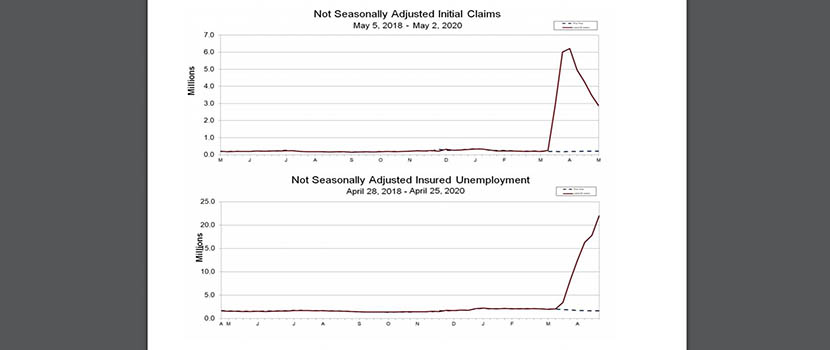 The Labor Department yesterday reported an additional 3.17 million initial unemployment claims filed the week ending May 2, bringing total claims filed over the past seven weeks to 33.5 million.
Claims fell by 677,000 from the previous week and were well off the record 6.648 million filed the week of Mar. 28. But the seven-week total since the full effects of the coronavirus pandemic slammed the economy remains unprecedented and represents more than 20 percent of the pre-shutdown workforce.
Labor reported the four-week moving average fell to 4.173 million, a decrease of 861,500 from the previous week's revised average. The advance seasonally adjusted insured unemployment rate was 15.5 percent for the week ending April 25, an increase of 3.1 percentage points from the previous week's unrevised rate. The advance number for seasonally adjusted continued claims, or insured unemployment, during the week ending April 25 rose to a record 22.65 million, an increase 4.6 million from the previous week.
Mark Vitner, Senior Economist with Wells Fargo Securities, Charlotte, N.C., said the numbers do not bode well for this morning's unemployment statistics from the Bureau of Labor Statistics; conservative estimates suggest the nation's unemployment rate could jump past 16 percent—or higher.
"Normally unemployment claims do not translate into an equal number of unemployed in the monthly employment report; however, with much of the economy shut down, there are fewer opportunities for displaced workers to find a new job," Vitner said. "As a result, a higher proportion of those losing jobs will show up as unemployed in the April employment report."
Doug Duncan, Chief Economist with Fannie Mae, Washington, D.C., said despite the downward trend, claims still remain at historically elevated levels and "continue to illustrate the unprecedented degree of labor market disruption being registered via reduced economic activity and falling consumer confidence due to the ongoing COVID-19 outbreak."
"As with the prior weeks, a few caveats make this week's data difficult to interpret precisely," Duncan said. "On one hand, unemployment insurance eligibility rules have been relaxed recently, increasing the number of people who are able to apply. This makes it difficult to estimate the uninsured unemployed share of the workforce. On the other hand, many states reported a significant backlog of unemployment insurance applications due to a lack of processing capacity, indicating that this week's release may understate the true extent of insured layoffs."