People in the News June 8 2020
ServiceLink Appoints Yvette Gilmore Senior Vice President of Servicing Product Strategy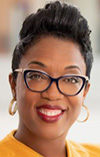 ServiceLink, Pittsburgh, Pa., appointed Yvette Gilmore as senior vice president of servicing product strategy. She will be responsible for developing ServiceLink's products and services that support strategic servicer client initiatives. She will also support ServiceLink's EXOS One Marketplace.
Gilmore brings more than 20 years' experience leading servicer relationship and performance management efforts for leading Fortune 500 financial service organizations. Prior to joining ServiceLink, she spent more than a decade with Freddie Mac, where she held several leadership positions and most recently served as vice president of servicer relationship and performance management. Prior to joining Freddie Mac, she led the loss mitigation departments for IndyMac and Washington Mutual.
Credit Plus Promotes Vani Vemuganti to Chief Financial Officer
Credit Plus, Salisbury, Md., promoted Vani Vemuganti to Chief Financial Officer, replacing outgoing CFO Don Grim who retired at the end of May.
With more than 18 years of multi-faceted experience and as CFO, Vemuganti is responsible for all aspects of Credit Plus' financial performance while focusing on long-range business planning to ensure continued growth. Over the past several years, she has made progressive business contributions in various roles at Credit Plus including finance, compliance, business application design and development. Before joining the firm, she honed her skills in bank fraud verifications for multi-national banking clients such as Standard Chartered Bank. She also gained experience in credit and treasury services and financial analytics in the Automation and Aerospace Businesses of Honeywell International based in Singapore, India and China.
LenderClose Appoints Samantha Paxson to Board of Directors
LenderClose, Des Moines, Iowa, appointed Samantha Paxson to the company's board of directors, bringing total board membership to six.
Paxson is chief experience officer for CO-OP Financial Services, and architect of the company's go-to-market brand and customer experience strategy. She is also a founder of CO-OP THINK, an innovation content platform that just this year went virtual for an audience of 2,500+ credit union leaders.
Fobby Naghmi, James Carroll Join First Option Mortgage
First Option Mortgage, Atlanta, hired Fobby Naghmi as executive vice president and national sales manager and James Carroll as retail operations director.

Previously, Naghmi was senior vice president of the Eastern Division of Planet Home Lending. Additionally, Naghmi started his own mortgage company in 2000, Horizon Mortgage Corp. He grew the company to four locations across the DC metro market with an emphasis on assisting first-time homebuyers in emerging markets.
Before joining First Option, Carroll was EVP and owner of The Carroll Mortgage Group. He started at the company as an assistant to his father in 1996. He moved up through the ranks as a loan officer, underwriter and operations manager. He managed loan originators, processors and underwriters as well as operations at the firm before joining First Option.
BlackFin Hires Mark Dangelo as Chief Innovation Consultant
BlackFin Group, Laguna Hills, Calif, hired innovation specialist Mark Dangelo to serve as Chief Innovation Consultant. He will be responsible for leading and managing innovation-led business transformation and technology projects, innovation based advisory services and will continue to serve as an industry advocate.
Dangelo has written four books and hundreds of articles on innovative business and technology strategies. Over the past sixteen years he has been a featured columnist for MBA NewsLink, and serves as an adjunct professor at John Carroll University teaching graduate classes in innovation and entrepreneurship.
Jodi Bell Joins WFG Lender Services as VP of National Business Development
WFG Lender Services, Portland, Ore., appointed Jodi Bell as Vice President of National Business Development for the company's Lender Services organization, responsible for building and maintaining client relationships among the nation's top financial institutions and mortgage lenders.
Prior to joining WFG, Bell served as VP and National Sales Executive for a national settlement services provider for eight years, overseeing recruitment of new clients. Prior to that, she worked as VP of Business Development for a San Diego-based national law firm.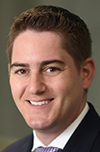 LRES Promotes David Sober to Vice President & National Sales Manager
LRES Corp., Orange, Calif., promoted David Sober to Vice President and National Sales Manager, responsible for revenue growth as well as supporting strategic mergers and acquisitions.
Sober has been in the mortgage industry for more than eight years and has built relationships with federal agencies, GSEs, and top lenders, servicers and investors.