CoreLogic: Borrowers Gain $6 Trillion in Home Equity Since End of Great Recession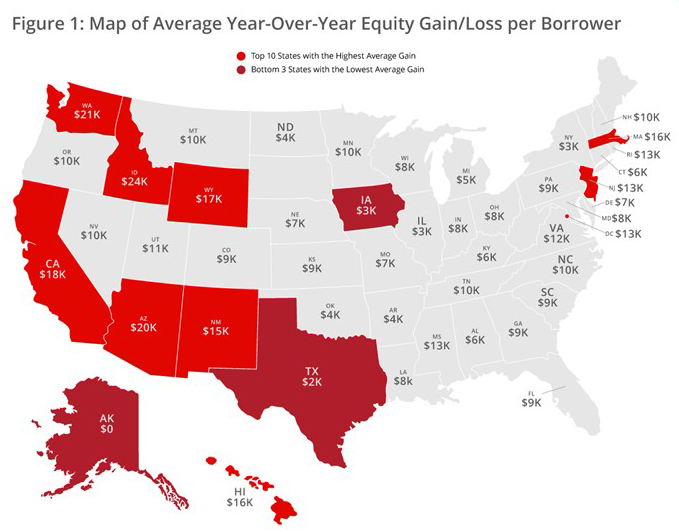 (Graphic courtesy of CoreLogic Home Equity Report)
CoreLogic, Irvine, Calif., said U.S. homeowners with mortgages—representing 63% of all properties—have seen their equity increase by 6.5% year over year, representing a gain of $590 billion since 2019.
The company's quarterly Home Equity Report noted home equity rose even with the onset of the coronavirus pandemic, with any economic impact not fully realized until the end of March. Despite unemployment reaching double-digits and 4.3 million homeowners applying for forbearance (per the Mortgage Bankers Association's Forbearance and Call Volume Survey), home prices continued to rise, which added to borrower equity through March.
CoreLogic said from the fourth quarter to the first, the number of mortgaged homes in negative equity decreased by 3.1% to 1.8 million homes, or 3.4% of all mortgaged properties. Mortgaged properties in negative equity in the first quarter fell by 16% compared to a year ago, when 2.2 million homes, or 4.1% of all mortgaged properties, were in negative equity. CoreLogic said if home prices increase by 5%, 310,000 homes would regain equity, and if home prices decline by 5%, 420,000 would fall underwater.
The report said homeowners gained an average of $9,300 in home equity year over year. States with the largest gains include Idaho, where homeowners gained an average of $24,400; Washington, $20,800; and Arizona, $19,900.
The national aggregate value of negative equity fell to $284 billion at the end of the first quarter, down by $1.9 billion, or 0.7%, from $286 billion in the fourth quarter and down by $22.6 billion, or 7.4%, from $307 billion a year ago.
"The pandemic recession will likely lead to price declines in many areas during the next year and weaken home equity gains," said Frank Nothaft, chief economist for CoreLogic. "However, price declines will be far less than those experienced during the Great Recession, when the national CoreLogic Home Price Index fell 33% peak-to-trough. Our latest forecast shows the national index to have a peak-to-trough decline of 1.5%."
CoreLogic said over the past 10 years, the equity position of homeowners has positively changed as a result of more than eight years of rising home prices. As the economy climbed out of the recession in the first quarter of 2010, 25.9%, or 12.1 million homes, were still underwater, compared to the first quarter when the negative equity share was at 3.4%, or 1.8 million properties. Borrowers have seen an aggregate increase of $6.2 trillion in home equity since the first quarter of 2010 and the average homeowner has gained about $106,100 in equity. Every state experienced a large reduction in the share of homes in negative equity, with Nevada posting the most significant drop in negative equity share, falling 70 percentage points between first quarter 2010 to first quarter 2020.
"Many homeowners will experience a recession during their lifetime, and it is reasonable to compare the current recession to those in the past," said Frank Martell, president and CEO of CoreLogic. "But the comparison is not apples to apples — every recession is different. Primary drivers of the Great Recession were an overbuilt housing stock, risky mortgages and the collapse of home prices, creating a massive increase in negative equity that proved difficult to recover from. Today's housing environment has low vacancy and delinquency rates and a large home equity cushion."