MBA Education Path to Diversity Scholar Profile: Deborah Reavis, AMP
(One of a continuing series of profiles of participants in the MBA Education Path to Diversity (P2D) Scholarship Program, which enables employees from diverse backgrounds to advance their professional growth and career development.)
MBA NEWSLINK: Tell us about yourself.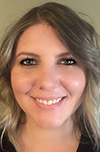 DEBORAH REAVIS, AMP: I am Escrow Administration Manager with Gateway Mortgage. I've been in real estate and mortgage for 13 years, on the mortgage side for the past eight years. I attended Oklahoma State University for both my undergraduate and master's degrees.
NEWSLINK: How did you learn about the MBA Path to Diversity Program?
REAVIS: I was fortunate enough to befriend a coworker who is a Certified Mortgage Banker. He advised me this program existed.
NEWSLINK: What inspired you to become more involved? Did a co-worker/supervisor/mentor encourage your participation?
REAVIS: My colleague encouraged me to become more involved. I was also fortunate to have the full support of my boss and company when I approached them about wanting to take some MBA classes through the Path to Diversity program. They are very invested in their employees' futures and were on board from the get-go!
NEWSLINK: Did you find the application process to be user-friendly?
REAVIS: I did find it easy! It is always hard to write personal statement and brag on yourself, but once I got started it was less intimidating than I thought it would be. It was very easy.
NEWSLINK: How has the Path to Diversity scholarship benefited you, personally and professionally?
REAVIS: Personally, it has benefited me because I have met some incredible people in my journey, the friendships formed are by far the most valuable asset that I have acquired from this experience. I also am always hungry to learn more. This scholarship gave me an opportunity to learn in an environment that was perfect for my learning style.
Professionally, it has provided me with some insight into the full mortgage process and an appreciation for each piece of the puzzle. Often people get wrapped up into what only their part does, the School of Mortgage Banking classes gave me the full picture and broadened my view and skills which I have been able to utilize when making decisions in my role.
NEWSLINK: What have you been able to bring back to your company as a result of the Path to Diversity program?
REAVIS: Since I have participated in all 3 SOMB classes, I have found others have started coming to me to ask my opinion on a broad array of mortgage questions. I also understand and have an appreciation for the process that each loan goes through throughout its life. The knowledge allows me to have a new perspective when dealing with the various situations that arise.
NEWSLINK: What would you say to someone considering applying for a Path to Diversity scholarship?
REAVIS: I would say, just do it. What do you have to lose? You gain insight, knowledge and an abundance of networking. It's a no-lose adventure.
***
About the MBA Path to Diversity Scholarship Program
The Path to Diversity Scholarship Program recognizes existing industry professionals who are seeking to advance their careers through continuing education. Recipients receive a voucher to cover course registration fees, up to a maximum of $2,000, for popular MBA Education courses and designation programs. This education opportunity enables employees from diverse backgrounds to advance their professional growth and career development.
MBA recognizes that a strong, responsible and sustainable real estate finance industry requires a workforce that is reflective of our society at large.
For more information about the Path to Diversity Scholarship Program, click https://www.mba.org/conferences-and-education/mba-education/path-to-diversity.