Dealmaker: Enterprise, Fellowship Square Close on $86M Construction Financing
Enterprise Community Development, Columbia, Md., and Fellowship Square Foundation, Reston, Va. received $86 million to build the new Lake Anne House in Reston, Va. outside Washington, D.C.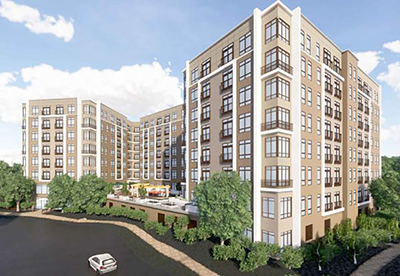 Fellowship Square Foundation Enterprise Community Development will redevelop the Lake Anne Fellowship House, an aging 240 senior housing project built in the 1970s. Instead of temporarily relocating residents until the permanent homes were finished, they will construct a new building on an underutilized portion of the site. This plan will save residents the inconvenience of multiple moves and will allow the developers to build an asset with improved accessibility, energy efficiency and amenities.
The development team needed to secure project-based rental vouchers for 100 percent of the units. Fairfax County Redevelopment and Housing Authority awarded the project 122 project-based vouchers and HUD provided the rest. The project financing also incorporated $46.5 million in tax-exempt bond financing from the Virginia Housing Development Authority and a $700,000 loan from the Virginia Housing Trust Fund.
The financing package also contained $21.5 million in Low-Income Housing Tax Credit equity provided through Enterprise Housing Credit Investments by Capital One, $3 million in Blueprint Funding from the Fairfax County Redevelopment and Housing Authority and $7.2 million in bridge financing from the Enterprise Community Loan Fund.
New Lake Anne House will include 56 studio apartments, 178 one-bedroom apartments and six two-bedroom apartments. All 240 units will serve low-income senior residents with incomes below 60 percent of area median income.
The developers expect delivery by June 2022. Following construction of the new building on the currently vacant east half of the site, the existing circa-1970 buildings will be demolished and the land sold for future townhomes.