Americans File 1.54 Million More Initial Claims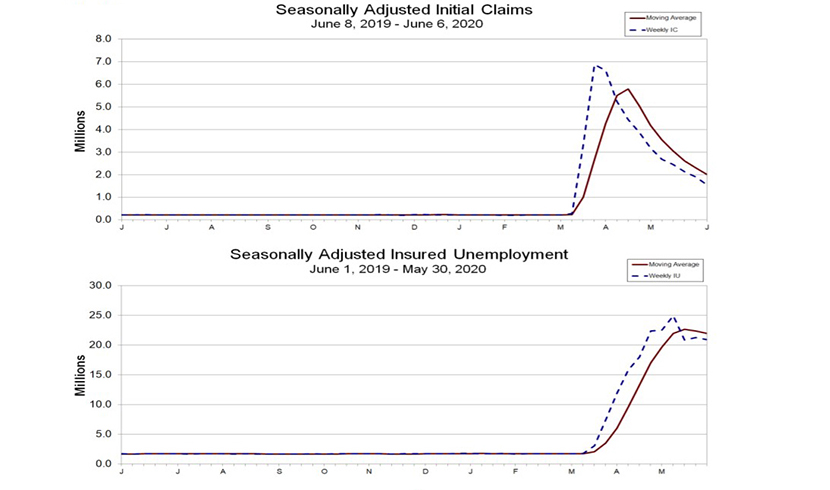 More than 1.5 million Americans filed new claims for unemployment insurance during the first week of June, the Labor Department reported Thursday—the lowest level since the start of the coronavirus pandemic but still well above historic norms.
The report said in the week between May 31-June 6, seasonally adjusted initial claims for jobless benefits fell to 1.542 million from a revised 1.897 million in the final week of May, a decrease of 335,000. The previous week's total had been revised up by 20,000. The four-week moving average fell to 2.002 million, down by 286,250 from last week's revised total.
The report also said the advance seasonally adjusted insured unemployment rate—also known as "continued claims"—fell to 14.4 percent for the week ending May 30, a decrease of 0.2 percentage point from the previous week's revised rate. The previous week's rate was revised down by 0.2 from 14.8 to 14.6 percent. The advance number for seasonally adjusted insured unemployment during the week ending May 30 fell to 20.93 million, a decrease of 339,000 from the previous week's revised level. The four-week moving average fell to 21.99 million, a decrease of 404,750 from the previous week's revised average.
Tim Quinlan, Senior Economist with Wells Fargo Securities, Charlotte, N.C., said jobless claims were in line with expectations.
"Adding in the nearly 10 million people receiving [Pandemic Unemployment Assistance] benefits, there are more than 30 million Americans receiving unemployment insurance," Quinlan said. "It's therefore hard to get too optimistic about the May [numbers]. For the first time we know of, the insured unemployment rate is higher than the U3 unemployment rate. Three reasons: (1) BLS admits they misclassified people, (2) labor force exits and (3) generous UI benefits causing a higher proportion to file claims."
Doug Duncan, Chief Economist with Fannie Mae, Washington, D.C., said the historically elevated levels "continues to illustrate the unprecedented degree of labor market disruption being registered via reduced economic activity and falling consumer confidence due to the ongoing COVID-19 outbreak. Over the last 12 weeks, more than 44 million unemployment insurance claims have been filed."
Duncan noted continued claims, while dropping, still represents nearly 14 percent of the workforce.