Pending Home Sales Jump Nearly 17%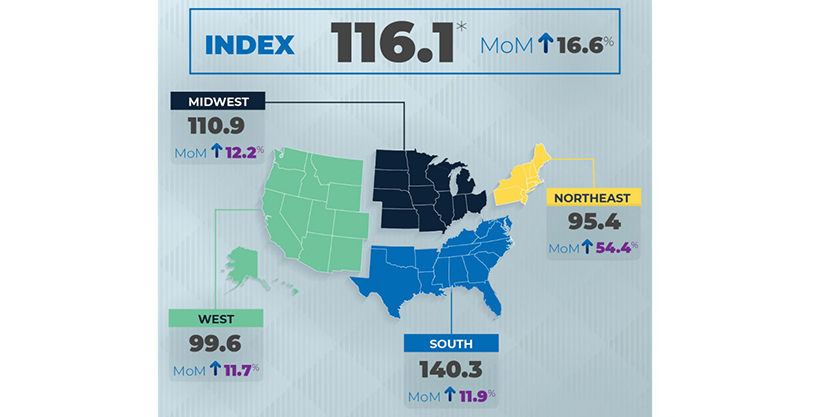 (Infographic by National Association of Realtors.)
Pending home sales jumped for the second straight month in June, the National Association of Realtors reported yesterday.
The Pending Home Sales Index, a forward-looking indicator of home sales based on contract signings, rose by 16.6% to 116.1 in June. Year-over-year, contract signings rose by 6.3%.
All four regions saw growth in month-over-month pending home sales transactions, while the Northeast was the only region to not record increases in year-over-year pending transactions. The Northeast increased month over month by 54.4% to 95.4 in June, but fell by 0.9% from a year ago. In the Midwest, the index rose by 12.2% to 110.9 last month and by 5.1% from a year ago.
Pending home sales in the South increased by nearly 12% to 140.3 in June and improved by 10.3% from a year ago. In the West, pending sales jumped by 11.7% in June to 99.6and rose by 4.7% from a year ago.
"The Northeast's strong bounce back comes after a lengthier lockdown, while the South has consistently outperformed the rest of the country," said NAR Chief Economist Lawrence Yun. "These remarkable rebounds speak to exceptionally high buyer demand."
Joel Kan, Associate Vice President of Economic and Industry Forecasting with the Mortgage Bankers Association, said strong housing demand and low mortgage rates drove purchase activity. "While this is another piece of positive news for the housing market, there is some uncertainty ahead," he said. "COVID-19 cases are rising in many parts of the country, the unemployment benefits extension remains in doubt, and housing inventory remains tight."
Yun said as house hunters seek homes away from bigger cites – likely in an effort to avoid the coronavirus – properties that were once an afterthought for potential buyers are now growing in popularity.
"It is quite surprising and remarkable that, in the midst of a global pandemic, contract activity for home purchases is higher compared to one year ago," Yun said. "Consumers are taking advantage of record-low mortgage rates resulting from the Federal Reserve's maximum liquidity monetary policy."