Dealmaker: Nashville's Union Station Hotel Trades for $56M
Pebblebrook Hotel Trust, Bethesda, Md., sold the 125-room Union Station Hotel Nashville, Autograph Collection in Nashville for $56 million.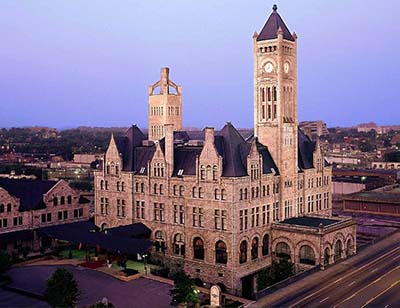 Southwest Value Partners, San Diego, acquired the National Historic Landmark property. Southwest Value Partners also developed the nearby 17-acre Nashville Yards development.
Built in 1900, Union Station served as the city's central train terminal for the Louisville & Nashville Railroad. The terminal closed in 1979 and reopened as a hotel in 1986. It received an $11 million renovation in 2007 and a $1.9 million upgrade in 2012 to convert to an Autograph Collection by Marriott hotel.
The downtown Nashville property is adjacent to the Frist Center for Visual Arts, down the street from the recently opened Music City Center Convention Center and blocks from Vanderbilt University and the city's financial district. Union Station Hotel Nashville, Autograph Collection's Grand Lobby has a 65-foot-high barrel-vaulted ceiling. It includes 12,000 square feet of meeting and event space.
Pebblebrook paid $52.3 million for the asset in 2014.
In a separate transaction, Pebblebrook amended agreements governing its outstanding debt, including its $650 million senior unsecured revolving credit facility, $2 billion of term loans and working capital facilities and $100 million private placement senior notes. In addition, $242.6 million of the real estate investment trust's $300 million November 2021 debt maturity was extended to November 2022.