Call for Nominations: MBA NewsLink 2020 Tech All-Star Awards; Deadline TODAY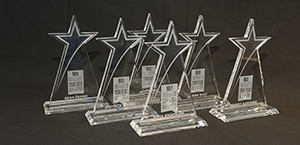 The Mortgage Bankers Association and MBA NewsLink are accepting nominations for the MBA NewsLink 2020 Tech All-Star Awards. The nomination deadline is TODAY, Friday, Jan. 17.
Since 2002, the MBA NewsLink Tech All-Star Awards have celebrated industry leaders who have made outstanding contributions in mortgage technology. Awardees will be honored at the MBA Technology Solutions in Mortgage Banking Conference & Expo Mar. 29-Apr. 1 in Los Angeles.
Submission Form
Please use the following form to submit nominations: https://mba-erm.informz.net/survistapro/sn.asp?gid=F8A4068D-9DF9-46F1-9C17-5DA6421C4921.
Criteria
Nominees must be employed by an MBA member company (Regular, Premier or Associate). Self-nominations are permitted. Previous winners remain eligible on a yearly basis.
Please note: the nomination should be for an individual who has made significant and outstanding contributions in mortgage technology. MBA will not consider "team" or "corporate" nominations.
The Tech All-Star Awards celebrate individuals who have made outstanding technology contributions to the mortgage industry. Contributions may include new products, methods, designs, standards or other achievements that have advanced the mortgage industry. The contribution may have been a single contribution or a series of contributions over an extended period. The MBA awards are intended for individuals whose contribution can be documented and readily understood by others across the industry.
Nominations for the Tech All-Star Award should contain specific details that provide supportive information for why the person deserves the recognition. Please include the following information with your nomination:
–Nominee's full name, current title, contact information (phone, email) as well as the nominator's contact information.
–A detailed summary of the contribution the individual has made and actual industry-wide benefits the contribution has yielded.
–Metrics or numbers that show the impact of the person's contribution to industry technology. Some examples might be adoption numbers, cost saving numbers, number of regulators/states/GSEs that mandate usage, etc.
–Provide factual information that portrays how their contribution was a "first" or its "uniqueness" when it was first added to the market's existing technology or infrastructure.
–Adoption: Provide some factual information about how their contribution has been adopted into the mainstream of industry technology. And the steps that they had to take to get this contribution adopted by the industry (the effort involved). Is it now widespread, or is it still a work in progress? (Provide facts about market share, number of companies using the technology, is it pervasive, did Fannie Mae and/or Freddie Mac adopt it, etc.)
–Career-long effort: For nominations that are for multiple accomplishments over many years, please provide facts about the number of years that this individual has been at the job of bringing about this industry technological transformation or contribution. Please provide details about the number of volunteer committees that they have served on (and the hours put into that) or the number of years they have been working inside and outside their jobs to make their contribution into a working reality.
–The special nature of this individual that has made this a cause more than just a job for him/her. Here it would be helpful to get the names, titles and contact information for people who could give further details about the unique role this person has played in furthering industry technology. (They can be with the same company or any industry colleague familiar with the person's career.)
Timeline
–Nominations will be accepted through close-of-business (5:00 p.m. PT; 8:00 p.m. ET) Friday, Jan. 10, 2020.
–Winners will be notified by Feb. 7, 2020.
–Winners will be honored in an on-stage ceremony at the MBA Tech Solutions Conference & Expo in Los Angeles Mar. 29-Apr. 1. Additionally, winners will be profiled in feature stories and a news release in MBA NewsLink.
If you have any questions, please contact Rick Hill, MBA Vice President of Industry Technology, at rhill@mba.org or 202/557-2718; or Mike Sorohan, MBA NewsLink editor, at msorohan@mba.org or 202/557-2855.