#MBAIMB20: Managing Change in 2020
NEW ORLEANS—Independent mortgage bankers face a lot of challenges this year: market uncertainty, new entrants and housing policy changes. But industry leaders also see a wealth of opportunities.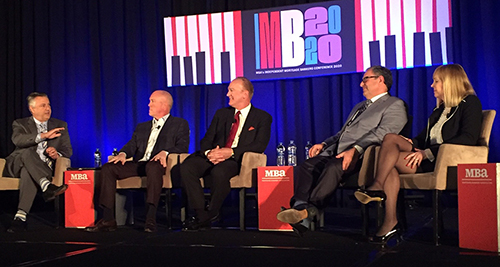 "We're a retail shop; for us it's staying relevant in our business model," said Terry L. Schmidt, CMB, Executive Vice President, Chief Financial Officer and Principal with Guild Mortgage Co., San Diego, speaking here at the Mortgage Bankers Association's Independent Mortgage Bankers Conference. "It's all about making the customer experience better, throughout the life of the loan."
To do that, Schmidt said, requires a change in approach. "We've been used to reaching out to potential customers; now, we want to drive the customer to us," she said. "We have a tremendous amount of data to mine, and now we are starting to use that to build customer acquisition and retention."
Stanley C. Middleman, CEO of Freedom Mortgage Corp., Mt. Laurel, N.J., said opportunities exist in looking further ahead—six or seven years down the line. "All of us are currently living in the moment," he said. "We need to stay ahead of the curve. As an independent nonbank, we need to have partners. We have to be able to raise money to grab market share so you can reach out and forward."
Mark A. Jones, CEO and Co-Founder of Amerifirst HomeMortgage, Portage, Mich., said achieving balance is important. "We believe the best team is going to win, whether it's in sports or in the mortgage industry," he said. "For us, it's all about culture. If you take the best people, and they feel the culture within the organization and believe in what you are doing, they are going to give everything to you. We 'measure' our culture every week
Jones said some companies simply celebrate the sales force. "We celebrate the entire organization," he said. "We want our successes to permeate throughout the organization. One of our goals this year is to be the most 'human' organization."
Bill Emerson, MBA 2016 Chairman and Vice Chairman of Quicken Loans Inc., Detroit, agreed that companies should be looking ahead. "But the planning for that should have taken place two or three years ago," he said.
Emerson said Quicken has continued to focus on vertical integration–"ensuring that the customer experience is consistent all the way up and down the chain."
Christopher George, MBA Immediate Past Chairman and Founder, President and CEO of CMG Financial, San Ramos, Calif., noted the current political environment is particularly acute. "How do you plan for potentially huge political changes, and adapt?" he asked.
"You have to have political intel," Emerson said. "If you're not thinking about what could happen in November 2020, then you're not really thinking about the future…there could be 16 different answers to that question."
Schmidt said one area in which her company focuses on is analytics and cost reductions. She said Guild participates yearly in the MBA/STRATMOR Group Peer Group Roundtables. "We have to have information flow that is very quick," she said. "We put all of our STRATMOR benchmarks into our database, and that allows to measure speed, how many loans an officer makes each month, etc., and we measure performance based on that."
"If you can't measure, you can't take action," Middleman concurred. "If you're going to spend 400 basis points to make a loan—which is very expensive—then you'd better have a fantastic customer experience and white-glove treatment. But you'd also better have other lines of business. If you are focusing on the mortgage piece, you have to have a low-cost model in which other lines of business can spin off of that."
A lot of mortgage companies are diversifying, Middleman noted, moving into title agencies and other vertical businesses. "At the end of the day, if you do a good job of taking care of the customer, that's half the battle," he said.
Jones noted customers are becoming increasingly diverse—and the mortgage industry has to continue to diversify as well. "We recently hired our first employees in which English is their second language; Spanish is their first," he said. "It's not a 'revolution;' it's 'evolution.'"
Emerson said Quicken continues to eliminate friction in the lending process. "We have thought about our business model every day," he said. "We have a process in which it is a consumer-driven choice. If a customer wants to talk to someone, they get to talk to someone. If they don't want to talk to someone, we have to have a process in place that enables them to do what they want to do electronically."
Middleman said agility is key to change. "Establishing a strategy and being able to adapt within that strategy is important," he said.