MBA Names Freddy Feliz VP of Information Technology/Chief Information Officer; Michael Flood SVP of Commercial/Multifamily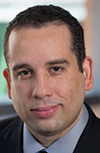 The Mortgage Bankers Association announced Freddy Feliz joined the Association as Vice President of Information Technology and Chief Information Officer.
Earlier this week, MBA announced Michael R. Flood as Senior Vice President of Commercial/Multifamily Policy and Member Engagement.
Feliz will be responsible for implementing and overseeing MBA's IT programs and projects, as well as developing new strategies for the association's IT efforts.
Feliz joins MBA from MERSCORP Holdings Inc., where he was Senior Vice President of Information Systems and Chief Information Officer. Prior to that, he served as its Director of Information Systems. He also held leadership positions with Marketing1by1 Inc.; Exmplar, Inc.; WebMiner; and GroupCards.com.
"Freddy has an extensive background in information systems, network management and data security, and we are excited to have him on board to expand MBA's IT capabilities," said Peter Grace, MBA Senior Vice President of Strategy and Member Services. "His expertise and knowledge will help us develop new ways of improving the MBA employee and member experience through technology."
Feliz holds a Master of Science degree in computer science from City College of New York and a Bachelor of Science in electronics and telecommunications engineering from INTEC University, Santo Domingo, Dominican Republic.

Flood, who joined MBA Feb. 23, is responsible for leading public policy and member engagement across all commercial real estate finance sectors, including mortgage banking companies, bank portfolio lenders, life insurance companies, multifamily-focused lending institutions, affordable housing lenders, commercial mortgage-backed securities issuers and investment management firms.
"Mike's distinguished career in public policy and the real estate finance industry makes him the ideal person to lead our commercial and multifamily team," said MBA President and CEO Robert D. Broeksmit, CMB. "Mike is well known within the industry and in Washington, and MBA's members will benefit from his experience and his extensive knowledge of the commercial and multifamily issues and markets."
Flood joins MBA from the CRE Finance Council, where he was Deputy Executive Director and head of the Washington, D.C., office. Prior to that, he served as the organization's Vice President, Head of Government Relations and Vice President of Policy and Economic Research. He previously held senior roles with the Structured Finance Industry Group, Association for Advanced Life Underwriting, Fannie Mae and KPMG.
Flood holds a Master of Business Administration with a concentration in marketing and finance from Georgetown University, and a Bachelor of Arts in political science from the University of Illinois.