Don't Get Caught Without the Right Bench Strength: Risks All Servicers Face When Insourcing Hazard Insurance Claims
By Laura MacIntyre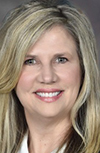 Laura MacIntyre is CEO of DIMONT, Dallas, responsible for leading the company's strategic initiatives, overseeing business development and client relations and ensuring alignment of the organization to grow its new business segments while maintaining a quality product and a customer-centric focus. Prior to joining DIMONT two years ago as Chief Revenue Officer, she served as Director of Sales at DocMagic. She also served as Chief Operating Officer for both Fidelity National Financial and Black Knight Inc. (FKA Lender Processing Services LPS).
The last decade has been good to the mortgage industry. In fact, we have gone an entire decade without a recession. Following the last mortgage crisis of 2008 that brought the entire industry to its knees, we have seen a strong return with high home values and vibrant lending and origination activity.
In addition, due to the strength of the economy, default volumes have been down significantly. While this is overall great news for our economy, it has led to a knowledge gap for servicers, particularly as it relates to the specialty services on the default side of the business. As key experienced personnel transitioned into other roles, specialty default claims processing has been rudderless for some time.
The process of filing hazard claims is not a typical core area of expertise within most servicing organizations. It requires robust technology, detailed regulatory knowledge and claims processing expertise to deliver the results investors are requiring of their servicers. The risks of foregoing quality, missing timelines or tap dancing with compliance is not a position to take lightly. Redundancy is key to ensuring you are not caught without a solution in place when the next wave of defaults hit our industry.
Unique Knowledge and Skillset Requirements
Filing hazard insurance claims can be arduous and complicated. The type of work requires experience, as well as education beyond typical mortgage servicing training. Without the proper background and deep understanding of regulatory and servicing policies and procedures, both the servicer and their investors could experience extensive monetary loss and compliance failures.
To successfully maximize the hazard claims process, it is essential that licensed public adjustors are managing and filing claims in accordance with state and jurisdictional requirements. This model ensures clients and investors receive maximum value and resolution on their collateral. Not only are the providers subject to state regulations, each state has its own insurance compliance requirements. Ensuring your resources have the knowledge and skillset required to earn and maintain these required licenses is no small task. Adjustors must also have extensive knowledge of individual carriers, their policies and practices, as well as a solid understanding of the varying state regulations. Investment in the right resources is paramount to ensuring client loses are minimized and investors are made whole on their collateral.
Hazard Claims Best Practices
In addition to the regulatory and compliance issues related to filing claims, it is also necessary to have a system of best practices for filing, negotiating and recovering claims in a timely matter. Servicers can accomplish this by having the following:
–A seamless relationship among all stakeholders and the servicer, robust technology, extensive experience, process controls and coordination, is all crucial to the successful resolution of the claim. As an example, the Property Preservation Vendor serves as the go-between for the vendor and access to a property, which is important to establish a solid perspective on damage timeframes and full damage extent. PPVs are crucial in providing access to the property for the insurance carrier through meet-and-greet requests.
–Timely document access and retrieval is essential to facilitate a fast claim resolution. These documents can include inspection reports, loan origination appraisals, documents to prove interest, change in risk or occupancy forms. To avoid claim delays and to mitigate any future losses, timely delivery of necessary documents is essential to ensuring an expedited claim resolution.
–Ensuring your team of experts have the relevant experience and knowledge of the entire hazard claim process will facilitate the timely filing of claims to meet compliance requirements and achieve maximum recovery on your portfolio. Investment in these necessary resources requires significant time and financial commitment to build a successful claims operation.
The Value of Specialty Insurance Partners
Maintaining the expertise and skills necessary to manage hazard claims can be overwhelming. General mortgage servicing staff may have insufficient knowledge of hazard claims insurance process, often overlooking clauses in policies that can increase recovery proceeds from insurance claims. Licensed Public Adjusters are keenly trained to find damage not easily discovered, most claims don't fit into a cookie cutter mold, so it is vital to understand that the claims process takes time and is dependent on someone with the experience necessary to adjust and respond to changes on a file. A specialized insurance services partner uses licensed adjustors with extensive industry knowledge to file and resolve claims quickly, as well as find claims recovery opportunities that are often overlooked.
The hazard insurance claims business is a complicated one, so for servicers who decide to handle the processing internally, it's critical to develop a system of best practices, maintain an in-depth knowledge of regulations, and keep adjustors' certifications up to date. If this is daunting and too labor intensive, engage a professional insurance services partner with the knowledge and expertise to maximize and speed your claims recovery efforts.
(Views expressed in this article do not necessarily reflect policy of the Mortgage Bankers Association, nor do they connote an MBA endorsement of a specific company, product or service. MBA NewsLink welcomes your submissions. Inquiries can be sent to Mike Sorohan, editor, at msorohan@mba.org; or Michael Tucker, editorial manager, at mtucker@mba.org.)