CoreLogic: 2019 Home Prices Increased by 4%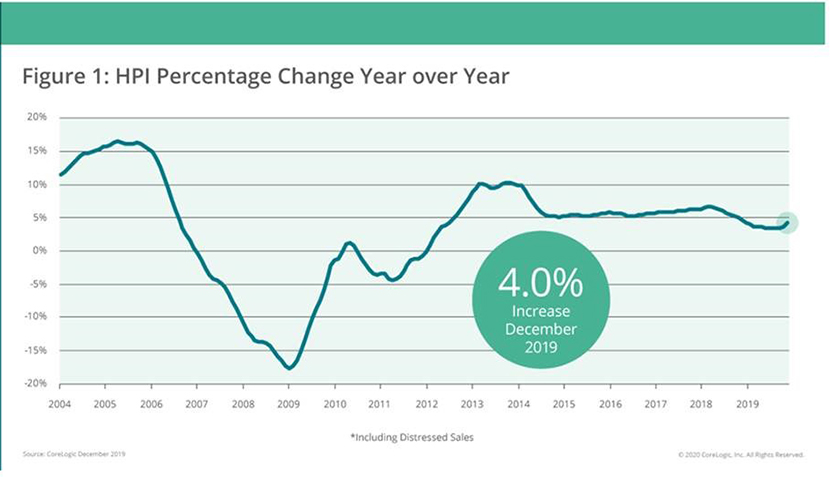 CoreLogic, Irvine, Calif, said home prices increased by 4 percent annually in December—not as high as other forecasts, but at a healthier pace than in recent years.
The company's monthly Home Price Index and HPI Forecast December showed home prices rose both year over year and month over month. Home prices increased nationally by 4% from a year ago. On a month-over-month basis, prices increased by 0.3% from November.
"Moderately priced homes are in high demand and short supply, pushing up values and eroding affordability for first-time buyers," said CoreLogic Chief Economist Frank Nothaft. "Homes that sold for 25% or more below the local median price experienced a 5.9% price gain in 2019, compared with a 3.7% gain for homes that sold for 25% or more above the median."
According to the CoreLogic Market Condition Indicators, an analysis of housing values in the country's 100 largest metropolitan areas based on housing stock, 34% of metropolitan areas have an overvalued housing market as of December. It said 26% of the top 100 metropolitan areas were undervalued, and 40% were at value. When looking at only the top 50 markets based on housing stock, 40% were overvalued, 20% were undervalued and 40% were at value in December.
Looking ahead, CoreLogic looks for home price appreciation to appreciate further. The HPI Forecast suggested annual price growth at 5.2% through December 2020. On a month-over-month basis, the forecast calls for U.S. home prices to increase by 0.1% from December to January, which would mark a new peak in prices since the last recorded peak in April 2006.
During the second quarter, CoreLogic and RTi Research, Norwalk, Conn., conducted an extensive survey measuring consumer-housing sentiment among millennials. The study revealed a significant contrast between younger millennials (ages 21-29) and older millennials (ages 30-38) regarding lifestyle preferences and aspirations for homeownership. Though 79% of younger millennial renters express a desire to purchase a home in the future, very few have previously owned a home, and many do not currently feel the need to own a home. However, due to homeownership rates nearly doubling for millennials once they reach their 30s, many enter a transitional period around 29-30 years old and reconsider their priorities.
"On a national level, home prices are on an upswing," said CoreLogic President and CEO Frank Martell. "Price growth is likely to accelerate in 2020. And while demand for homeownership has continued to increase for millennials, particularly those in their 30s, 74% admit they have had to make significant financial sacrifices to afford a home. This could become an even bigger factor as home prices reach new heights during 2020."