People in the News
MBA Honors Stacey Berger with 2020 CREF Distinguished Service Award
The Mortgage Bankers Association presented Stacey Berger, Executive Vice President of Midland Loan Services, with its 2020 Commercial Real Estate Finance Distinguished Service Award.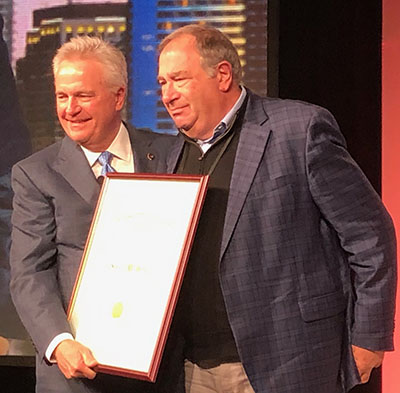 MBA presented Berger with the award at its recent 2020 Commercial Real Estate Finance/Multifamily Housing Convention & Expo in San Diego.
"Throughout his illustrious career, Stacey has been an active participant with the MBA and has been a thought leader on various issues affecting the commercial/multifamily finance industry," said Brian Stoffers, CMB, MBA 2020 Chairman and Global President of Debt & Structured Finance at CBRE. "His leadership, ability and intelligence have contributed to his success, and it is an honor to present him with this award."
Berger is Executive Vice President with Midland Loan Services, where he has worked for the past 30 years and is a former Executive in Residence at the Albert Lepage Center for Entrepreneurship and Innovation at Tulane's Freeman School of Business.
Berger is a past Vice Chair of MBA's Commercial Real Estate/Multifamily Finance Board of Governors and continues to serve on several MBA committees. He has been to more than 50 MBA conferences and is active in planning content for the association's Capital Markets Summit, for which he also serves as a moderator.
MBA created the CREF Distinguished Service Award to honor an individual's outstanding contributions to the commercial/multifamily real estate finance industry and to MBA.
Nominees for the CREF Distinguished Service Award must be associated with an MBA member firm, have a record of sustained and extraordinary service to MBA and the commercial/multifamily real estate finance industry and possess a strong reputation of ethical and professional conduct. This award is the highest honor an individual can receive from fellow MBA members.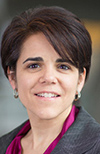 Donna Corley Named Head of Freddie Mac's Single-Family Business
Freddie Mac, McLean, Va., named Donna Corley executive vice president and head of the company's Single-Family business. She will oversee all business relationships with its Seller/Servicers, performance of its guarantee book and all sourcing, servicing and business operations. She will also serve as a member of Freddie Mac's senior operating committee.
Corley brings nearly 25 years of experience in the financial services industry as well as expertise in risk management, capital markets and pricing. She was named interim head of the Single-Family division in October. She joined Freddie Mac in 1995 as a research analyst. Over the course of her career at the company, she held various positions within the Investment and Capital Markets division and rose through Single-Family to lead its credit pricing, risk transfer and securitization teams. Most recently, she served as senior vice president and Single-Family chief risk officer, where she led a team of 500 employees.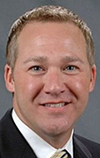 Planet Home Lending Hires Patrick Couture as SVP Platform Development
Planet Home Lending LLC, Meriden, Conn., hired Patrick Couture as Senior Vice President of Servicing Platform Development.
Before joining Planet Home Lending, Couture worked at several high-profile mortgage industry firms, including Goldman Sachs, where he was Vice President of the Realty Management Division and Goldman Sachs Bank where he was Vice President of the Consumer and Investment Management Division. He worked for Lone Star Funds/Hudson Advisors and was responsible for the Caliber Home Loans investment. While Vice President at Fairbanks Capital. He was also Senior Vice President at Nationstar Mortgage and Vice President at GMAC's Homecomings Financial.
Spring EQ Hires Gregory Gentek as Senior Vice President of Sales
Spring EQ, Philadelphia, hired Gregory Gentek as senior vice president of sales, responsible for growing Spring EQ's sales team and supporting the development of the company's affinity partnerships with other companies. He will also be responsible for establishing and implementing Spring EQ's sales strategies and goals as well as overseeing all direct-to-consumer activities, supervising sales managers, scaling first and second mortgage teams at multiple locations, and recruiting, training and developing loan officers.
Gentek has more than 25 years of mortgage banking experience. Before joining Spring EQ, he served as president of Genpact Mortgage Services. He also served in senior vice president positions with JPMorgan Chase, Freedom Mortgage and PHH Mortgage.

BlackFin Group Adds Ann Pennywitt, Dallin Fish
BlackFin Group, Irvine, Calif., hired Ann Pennywitt as Executive Vice President of Strategic Alliances and Dallin Fish as Senior Lending Technology Consultant.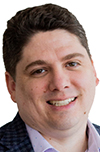 Pennywitt will be focused on cultivating mortgage banking industry partnerships, relationships and strategic alliances. She has more than 25 years of management experience. Prior to BlackFin Group, she served as a SaaS Consultant with Kensie Mae and represented Strategic LOS engagements with Ellie Mae.
Fish is responsible delivering technology implementations and specialized testing plans. He has more than 10 years of technology consulting experience, playing a critical role in development, design and implementation of top 100 mortgage banking software systems.

LBA Ware Hires Veronica Mahler as Business Analyst
LBA Ware, Macon, Ga., hired Veronica Mahler as business analyst. She will support the spring release of LBA Ware's turnkey business intelligence platform, LimeGear, by supporting post-implementation client experience in partnership with LBA Ware's client success team.
Mahler has 12 years' experience in customer and client advocacy spanning training, project management and relationship building. Immediately before joining LBA Ware, Mahler served as program manager at Fair, a billion-dollar startup and payment-based, used-car leasing app.