#MBAServicing2020: 'Stronger Servicing Starts Here'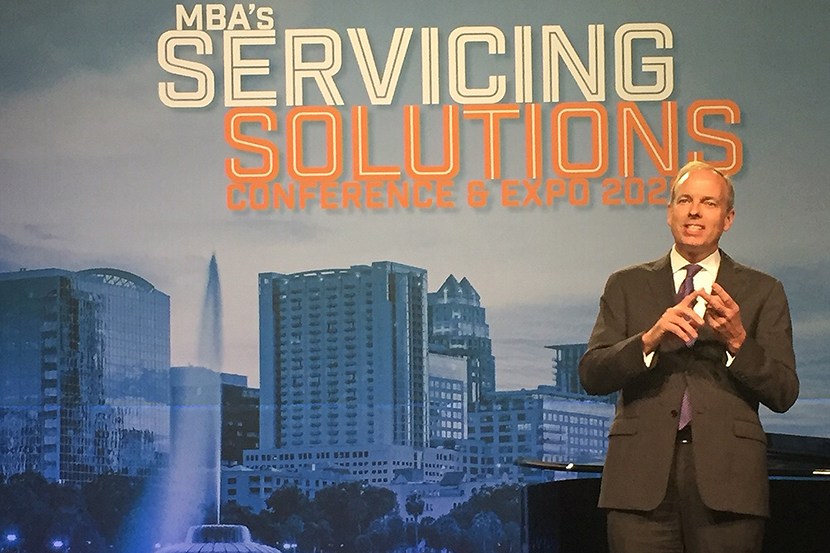 ORLANDO—Mortgage Bankers Association President and CEO Robert Broeksmit, CMB, kicked off the MBA Servicing Solutions Conference & Expo here with praise for the work the mortgage servicing industry has done in recent years.
"Stronger servicing starts here, with MBA. In fact, stronger servicing starts in this very room," Broeksmit said. "You're already doing an amazing job. We've come a long way since the Great Recession. Delinquencies and foreclosures are at multi-decade lows. This is a remarkable accomplishment. And much of the credit goes to you."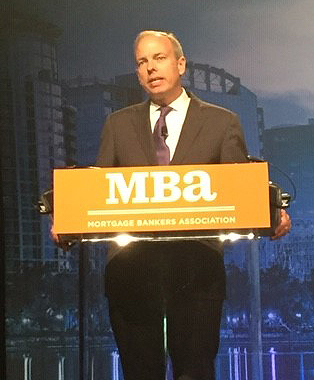 Broeksmit noted he oversaw Chevy Chase Bank's mortgage arm for nearly 15 years. "We had a $20 billion servicing book," he said. "I saw firsthand the good and vital work that you do. You're on the front lines of the industry every single day. Servicing is essential and irreplaceable."
Indeed, the most recent MBA National Delinquency Survey found mortgage delinquency rates for loans on one-to-four-unit residential properties in the fourth quarter fell to the lowest level since the Mortgage Bankers Association began tracking such data. The NDS reported the delinquency rate for one-to-four-unit residential properties in the fourth quarter fell to a seasonally adjusted rate of 3.77 percent of all loans outstanding, down by 20 basis points from the third quarter and by 29 basis points from one year ago. The percentage of loans on which foreclosure actions were started in the fourth quarter remained unchanged at 0.21 percent.
"[Your] success makes this the perfect time to push forward on policy," Broeksmit said. "I'm sure you've heard the saying, 'work on the roof when the sun's out.' That describes the situation today. Our industry is in a good place. Now let's get it to the best place."
Broeksmit noted many issues demand servicers—and MBA's—attention this year. For example, one important project is MISMO's new servicing transfer initiative (MISMO is a wholly owned subsidiary of MBA that promotes industry technology standards). Last month, the GSEs (Fannie Mae and Freddie Mac) formally requested that MISMO bring the industry together to solve this issue.
"Servicing transfer data is not standardized across the industry; different servicers use different systems," Broeksmit said. "The consequences are higher costs, lost or missing data, limited liquidity and unhappy customers. The cost of a servicing transfer alone can easily be in the low-to-mid six figures. It's a big problem, and it's time to solve it…Standardization will help us all. And we're determined to make it happen–soon."
MBA is also heavily involved in the debate around financial standards for independent mortgage banks that are GSE seller/servicers. Last month, the Federal Housing Finance Agency proposed updates to its net worth and liquidity requirements for IMBs. Broeksmit said this is an issue of which mortgage servicers are passionate about.
"We understand the reasons behind this proposal," Broeksmit said. "Of course it's important that all counterparties be well capitalized and maintain sufficient liquidity. There will, after all, be challenging times in the credit cycle. Servicers should have the resources to weather that storm. But it's also true that any new requirements must strike the right balance and preserve your ability to serve your customers. We're talking with FHFA, the GSEs, Ginnie Mae, and state regulators to make sure that any new regulations are appropriate and fair."
Broeksmit said MBA will submit recommendations to FHFA shortly. "Our message is your message," he said. "Now is not the time to force servicers to back away from the consumers you work with. Now is not the time to impair Ginnie Mae from servicing the FHA program, making it harder for low- and moderate-income families to get their first home."
MBA is also engaged on affordable housing. Over the past year MBA has submitted comments to HUD as part of the White House Council on Eliminating Regulatory Barriers to Affordable Housing; additionally, Broeksmit has met with HUD Secretary Ben Carson to discuss this issue.
"We strongly support the White House's effort and share the administration's desire to find solutions and help Americans," Broeksmit said. "You could say that we already have a few ideas. In our official comment, we identified more than 30 concrete ways to expand access to affordable housing. We will continue to work with stakeholders at every level of government to address this issue, which is fast becoming a crisis. More affordable housing is good for our members. It's good for families. It's good for the economy. And more affordable housing is good for America."
Additionally, in the near future, HUD is expected to release updates to its Single-Family Housing Handbook. "We expect it to reflect MBA input and contain helpful revisions to servicing policies," Broeksmit said. "This includes changes to the loss mitigation waterfall and borrower documentation requirements. When the new handbook hits the shelves, I'm confident that you will be pleased."
This week, MBA published a new White Paper on default servicing alignment (see related story, #MBAServicing2020: MBA Releases Default Servicing Alignment White Paper, in today's MBA NewsLink). Broeksmit said the paper, the result of nearly a half-dozen workgroups set up by the MBA Residential Loan Administration Committee, centers on "where we can better align and standardize the rules that govern the industry."
"The workgroups identified a large number of servicing-related problems," Broeksmit noted. "The White Paper shows the path to a stronger, fairer, more efficient, and more affordable servicing system. It is our to-do list for the next several years. And we're already working to get this done, and done right."
In the coming months, Broeksmit added, "we'll take this White Paper and turn it into products and resources that are tailored for different audiences. We'll get these resources into the hands of the White House, Congress, regulators, and every other important party. We're already saying the same thing to all of them: The current system benefits no one, consumers least of all. It's time to align servicing standards."
Broeksmit said everything comes down to one word: Results. "We delivered for you in 2019. We're already delivering for you in 2020," he said. "We go to work every day determined to make your businesses and your customers better off."