Bill Neville of LoanLogics on Regtech and Data Analytics: Past, Present and Future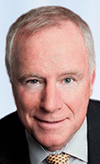 Bill Neville is CEO of LoanLogics, Trevose, Pa., responsible for overseeing all company operations, technology and software development, and leading the strategies that continue the company's growth as a regtech technology provider. In addition to his executive role, he is also a member of LoanLogics' Board of Directors.
Neville has more than 25 years of experience in the financial services industry. Most recently he served as president of North America for Finastra, one of the world's largest fintech corporations. Prior to Finastra, he served as a board director and later president of U.S. business to its predecessor company, D+H, where he played an important role in the company's acquisition of various companies including Mortgagebot, Avista Solutions and Harland Financial. He also served as managing director and head of Citi's North American hedge fund servicing business, as president of BISYS Alternative Investment Services, and as group president of BISYS Banking Solutions Group. Earlier in his career, he held senior positions at several technology companies, including IBM.
MBA NEWSLINK: We have seen greater expectations from borrowers for speed and convenience throughout the mortgage process from application to settlement and servicing. Can we see the mortgage industry improving the borrower experience in 2020?
BILL NEVILLE, LOANLOGICS: The short answer is yes, but there's not going to be drastic change overnight. Simply put, the more information that is collected and verified digitally, the faster and better the borrower experience. But right now, there is still too much paper and too many manual tasks on both the origination and servicing sides of the business. Too often, borrowers are being asked for "one more thing" during the underwriting process because lenders struggle with collecting data. When you're not able to capture all the documents and data effectively, you're bound to be asking borrowers for "one more thing," or asking borrowers for the same information again and again. This drags down the process, which leads to a more frustrating borrower experience. But we are working to change that.
NEWSLINK: How are mortgage lenders able to improve the process?
NEVILLE: The average loan involves between 400 and 500 pages of documents, some digital and some scanned pdf and tif files. By using artificial intelligence (AI) and machine learning tools, mortgage lenders can reduce manual, redundant and repetitive tasks in processing these documents and capturing data off them. This not only helps lenders lower loan costs, but improves the borrower experience as well. And just like fewer and fewer people write personal checks, there will come a time when it is all electronic files. It's unavoidable—there is just too much to be gained by going digital, and too much value in the data that can be used to power artificial intelligence and rules-based automation for decisioning, data analytics, mobile applications, or eClosings.
NEWSLINK: So artificial intelligence will continue to move the mortgage industry closer to speeding loan originations and reducing costs for investors and servicers and in the secondary market. Is that correct?
NEVILLE: Given the positive results we've seen so far, I think it's obvious that the momentum will continue. Every year, AI and machine learning are bringing us one step closer to a more highly automated workflow and exception based decisioning. Today, lenders are leveraging machine learning tools to increase the accuracy of how data is lifted off borrower documents at the time they are collected—not after the fact—and running rules on them to determine discrepancies during origination. This means they are decisioning on accurate information and building a more perfect loan file, in real-time, rather than one that gets perfected just prior to close, or worse yet, in post-closing reviews. All of this contributes to faster, more seamless workflows—in production, secondary marketing and servicing as well.
NEWSLINK: Is there a timeline when we see mortgage lenders using artificial intelligence and machine learning to improve the overall process from POS to the secondary market?
NEVILLE: I wish I could give you a timeline, but while they are still evolving, I do see these technologies in practical use today. Machine learning is a great example of technology that only improves with use for a task like document processing. Technology providers are rolling out this capability using very large document test sets to train these systems for day one value. In addition, the ongoing use of machine learning by lenders are improving its effectiveness. This technology is likely to get better and better as more information flows through it.
NEWSLINK: Even though the technologies are evolving, progress was made in the last decade. Where is the industry now using machine learning?
NEVILLE: Adoption of machine learning tools is growing. In a 2018 survey, Fannie Mae found that 27 percent of lenders were already deploying AI and machine learning tools. That number is probably significantly higher in 2020. Accelerating this are initiatives like the Freddie Automated Servicing Transfer (FAST) program. Freddie Mac's FAST tool leverages LoanLogics IDEA (Intelligent Data Extraction and Automation) technology, which uses machine learning and other capabilities to transform digital images and scanned documents into verified and validated information for loan boarding. This same machine learning technology is also processing 40 percent of the industry's correspondent loan volume that runs through our platform.
NEWSLINK: Technology has made strides in the last decade at replacing bulky spreadsheets in analyzing data within the secondary market. How will data analytics have an impact for investors in the secondary market, particularly RMBS investors?
NEVILLE: Along with machine learning tools being deployed in the collection and processing of borrower data, AI and data analytics holds promise to streamline the secondary market immensely. When investors can gain greater insights from loan data, it makes that data more actionable. A simple example is having more transparency into mortgage loan file data to understand trends and patterns related to loan defects, so investors can work with originators to improve their production practices.
As far as improving the private label market, AI and data analytics based on accurate, purified data has the potential to open the door a little bit wider into managing the performance of loan assets. Ultimately, analyzing and refining data models in the right way to create greater transparency is the best tool investors could have to price and manage securities risk. I have to believe investors are watching closely where technology is heading. The bottom line is that all these things – AI, machine learning, data analytics – are creating more purified loan data and the ability to use that data to assess value and risk, which will carry more benefits across the board.
(Views expressed in MBA NewsLink do not necessarily reflect policy of the Mortgage Bankers Association, nor do they connote an MBA endorsement of a specific company, product or service. MBA NewsLink welcomes your submissions. Inquiries can be sent to Mike Sorohan, editor, at msorohan@mba.org; or Michael Tucker, editorial manager, at mtucker@mba.org.)