People in the News
MBA Presents Freddie Mac Multifamily with Commercial/Multifamily Diversity & Inclusion Leadership Award
SAN DIEGO–The Mortgage Bankers Association awarded Freddie Mac Multifamily with the 2020 Commercial/Multifamily Diversity and Inclusion (D&I) Leadership Award.
MBA made the presentation at its 2020 Commercial Real Estate Finance/Multifamily Housing Convention & Expo. Freddie Mac Multifamily was selected as this year's winner for having a comprehensive inclusion and diversity program, as well as for its innovative diversity strategy.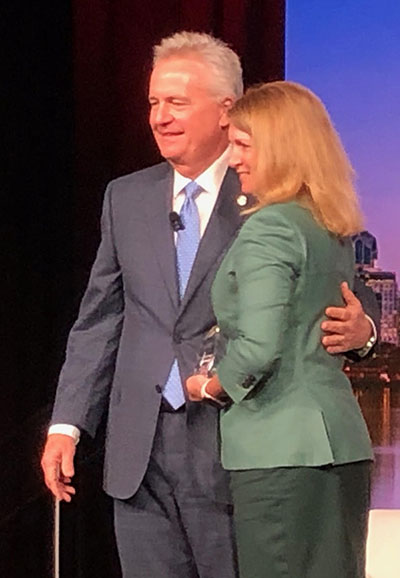 "MBA member applicants this year displayed unique and comprehensive D&I programs that could be replicated throughout the industry; however, Freddie Mac Multifamily's program stood out for its purposeful mission and ability to display measurable goals," said Brian Stoffers, CMB, 2020 MBA Chairman, and Global President of Debt & Structured Finance with CBRE, Houston. "Freddie Mac Multifamily's efforts improve its workforce and supplier diversity, and ultimately its goal of providing mortgage funding for multifamily loans and supporting affordable housing."
The award was accepted by Freddie Mac Multifamily Executive Vice President and Head of Multifamily Business Debby Jenkins.
"Freddie Mac Multifamily has a longstanding commitment to inclusion and diversity, and we've worked to embed those principles in all of our business efforts," Jenkins said. "It's a great honor to be recognized by the Mortgage Bankers Association for this work, which we hope will continue building momentum for a commercial and multifamily industry where all feel welcome."
Now in its fourth year of recognizing member companies in commercial real estate finance, MBA's Commercial/Multifamily Diversity and Inclusion Leadership Award was developed to celebrate company initiatives that were specifically developed and designed to increase internal diversity and inclusion within a company's leadership and employee base. This award commends the hard work, dedication, and creativity in the creation of exemplary programs that focus on achieving organizational diversity and inclusion.
Company initiatives were scored by a group of judges consisting of MBA staff and a member company. The companies were scored based on: the quality of their overall submission; identification of a target audience and annual goals; demonstration of a tangible benefit to participants and the overall enterprise; replicability of the program; innovative program approaches; and program success in broadening the culture of the organization through the values of diversity and inclusion.
For more information on Freddie Mac's diversity and inclusion efforts, visit: http://www.freddiemac.com/careers-blog/diversity/.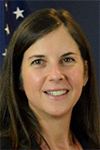 FHFA Realigns Agency Structure
The Federal Housing Finance Agency announced a realignment designed to ensure that the Agency is well-positioned for the Enterprises to exit conservatorship.
The realignment includes:
–Establishing three new units that report directly to the Director: The Division of Research and Statistics, headed by Deputy Director Lynn Fisher; the Division of Accounting and Financial Standards, headed by Deputy Director Nina Nichols; and the Office of Equal Opportunity and Fairness.;
–Hiring a new Deputy Director, Paul Miller; and Associate Director, Scott Valentin, for the Division of Enterprise Regulation;
–In the Office of General Counsel, promoting Christopher Curtis to Principal Deputy General Counsel; and Sean Dent as Senior Deputy General Counsel;
–In DRS, Anju Vajja as Senior Associate Director for Policy Research; and
–In the Office of Minority and Women Inclusion, Paul Priest as Associate Director for Diversity and Inclusion and Administration;
Additionally, FHFA renamed the Division of Conservatorship to the Division of Resolutions.

WFG Taps Kevin Beach to Head Operations for NTS Division
WFG National Title Insurance Co., Portland, Ore., expanded its National Title Services support division and appointed Kevin Beach as Chief Operating Officer for NTS and Senior Vice President for WFG National Title Insurance Co.
Beach brings 40-years of executive and operational experience in all facets of the title industry, specifically information and software services. He has worked with all major underwriters, including WFG. He comes to WFG from Title Information Associates, the management and business-consulting firm he founded in 2010 to provide solutions for the title insurance and real estate information industries. Prior to launching his consulting firm he served in executive and senior operational roles with Altisource Portfolio Solutions, Property Info/Stewart Title, NextAce, Property Insight, Chicago Title and Data Trace.

Depth Public Relations Names Leslie Colley Vice President of Client Services
Depth Public Relations, Atlanta, promoted Leslie Colley to vice president of client services.
Colley, a strategic marketing advisor to digital innovators and professional services experts, has served DepthPR clients since 2009 as a consultant before transitioning to a full-time staff position in 2015. Prior to joining DepthPR Colley she strategic planning and project management services for global consulting firm Willis Towers Watson.
NTC Appoints Star Kezsbom to Board of Directors
Nationwide Title Clearing Inc., Palm Harbor, Fla., appointed Star Kezsbom, Vice President of Compliance and Risk, to its Board of Directors. Kezsbom is an owner and the company's first employee since its inception in 1991.
Kezsbom possesses 30 years of experience in the residential mortgage industry. She currently oversees the company's safety and compliance. During her tenure with NTC, she has held various executive roles within the company, as her background is in organizational & project management, operations and legal.

Vantage Point Names John Contreras as Vice President of Strategic Accounts
Vantage Point Title, Clearwater, Fla., hired John Contreras as Vice President of Strategic Accounts. He will be responsible for bank & non-bank mortgage lender sales, adding new strategic alliances and selling the expanding line of products and services to lenders and title agents nationally.
Contreras previously worked as RynohLive's head of business development. Prior to that he held multiple business development leadership roles with JCAP Private Lending, Fidelity National Title, Servicelink and Black Knight.
Western Alliance Bank Adds Chris Romano to Mortgage Warehouse Lending Group
Western Alliance Bank, Phoenix, hired Chris Romano as Senior Vice President of its Mortgage Warehouse Lending group. Based in Florida, he will expand the Arizona-headquartered group's footprint, which already includes a presence in the Southwest, Califorina, Northwest, Midwest, Texas and the Northeast, to the Southeast U.S.
Romano brings three decades of banking experience to the team. He served previously with several leading national banking and mortgage firms and has expertise in whole loan and MSR acquisition, capital markets services, loan origination and servicing production, investor relations and the design and build out of multiple de novo businesses.
Mid America Mortgage Adds 3 to Servicing Operations
Mid America Mortgage Inc., Addison, Texas, added John Bargas, Donnell Mitchell and Wendy Strawn to its servicing department.
Bargas will lead the department as Executive Managing Director of Servicing. He has more than 20 years of experience in financial services. Most recently, he served as Director of Mortgage Servicing at Texas Capital Bank and has also held multiple leadership roles in mortgage banking, including at Saxon Mortgage, Capital One and Newbold Advisors.
Mitchell comes to Mid America from Rushmore Loan Servicing, where he held a leadership position in servicing operations for two years. With nearly 20 years of experience in loan servicing, Mitchell has a diverse background spanning operational management, technical understanding and service delivery. Additionally, Mitchell has managed servicing operations at Capital One and Pacific Union Financial.
Strawn has more than 25 years of experience in customer service and cash operations, including 12 years at Saxon Mortgage where she first worked with both Bargas and Mitchell. She has broad experience in process cost reduction, payment processing and configuration, customer service and financial reporting.