Mortgage Vendor News & Views With Scott Roller
Scott Roller founded 3W Partners LLC and is Co-Founder of Vendor Surf LLC (www.VendorSurf.com), each dedicated to revolutionizing sourcing of vendors in the mortgage and credit union ecosystems. The companies monitor and report on the service provider market to provide participants what they need to excel in today's market. Mortgage Vendor News & Views is a monthly feature in MBA NewsLink.)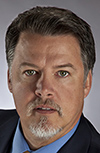 In this ongoing article series, we report on mortgage and credit union vendor marketplace events and trends, and we then share our viewpoints. The theme for today's article is a unique set of circumstances that is enlisting homeowners to be an active participant within the appraisal process during the pandemic – and likely into the future.
It came to me in a dream last night – a movie idea for Stephen King or Wes Craven, two of the most prolific horror film screen writers of our time. The opening scene… the doorbell rings. A very frightened thirty-something mom peeks thru the crack of the still-chained front door, seeing a tall and slender mask-wearing man staring back at her with tool in hand – the dreaded tape measure. The man says, "Hi, I am the home appraiser. Let me inside to inspect your home." That classic haunting violin screech music begins, the woman belts out a piercing scream and runs to hide behind the shower curtain… the absolute last place anyone would look.
Or wait, a different plot option altogether. Maybe the villain is the woman instead! Alternatively, the appraiser peers down the foyer hallway and sees the woman is hosting a book club – and none of the ladies are wearing masks to cover their faces. Gasp! Overcome with sheer terror, the appraiser runs to his pick-up truck only to find he is locked out. He dropped his keys on the porch, and now the scary, and potentially infected, woman is holding them in her un-gloved hand.
Fiction, of course! But the underlying fear across the mortgage and real estate ecosystem is very real. In a time of social distancing, when we have not even seen most of our family and friends for two months, why in the HEALTH would we let a complete stranger in our homes? It's not just us. Most appraisers want no part of it either, especially when the average age of an appraiser is 55, according to stats from Clearbox. With older adults most at risk for contracting Coronavirus, appraisers are probably far less eager to go inside your home than your willingness to let them.
The Show Must Go On
Mortgage lending is essential during any economy, whether under strain or booming. So, regulators, investors and vendors have all come together to implement a solution, at least temporarily. For example, the Federal Housing Finance Agency, Fannie Mae and Freddie Mac recently allowed mortgage lenders to significantly reduce the need for interior appraisals for certain mortgages, but not all loan types. Non-conforming mortgages, for instance, still require an in-home appraisal, as do some others. A few states have even banned appraisers from entering homes during the pandemic.
For the near-term, there is a huge reliance on 'alternative' appraisal products, namely exterior (aka – 'drive-by') and desktop appraisals. Prior to COVID-19, these products were not often used, although not extinct. However, multiple industry vendors have stepped up and announced the launch of mobile apps to help enhance the drive-by appraisals. And in doing so, they leverage an unexpected industry participant – the homeowners.
These mobile apps are meant almost exclusively for the homeowners to take physical photographs and enter some essential data, to ultimately be shared with the appraiser to accurately assess value. How many times have we read the headline, 'Survey: Appraisers and Homeowners Far Apart on Appraised Value?' Today, at least temporarily, the two factions are collaborating – officially!
While these tech-enabled tools are of great help, in general, they are particularly useful in homes where meaningful renovations and updates have been made. Without the use of these new mobile apps, it is not likely these home improvements would be adequately reflected in the appraised value.
These apps typically include the following basic components and capabilities:
Used by camera-enabled mobile devices
Authenticated photos that are geocoded and time stamped to help prevent fraud
Exportable in MISMO format for use in all appraisal software
While the list is likely not all-inclusive, here are some vendors and their respective mobile innovations to help support social distancing and the appraisal process.
ValuGuard Home Inspection (United States Appraisals)
A tech firm, disguised as an appraisal management company in my mind, United States Appraisals has delivered another versatile and easy-to-operate application. I saw a demo and spoke to Aaron Fowler (CEO) and James Webster (CTO) about ValuGuard, where their tagline is 'Inspect your own place – No pros required.' Some highlights:
A mobile app for smartphones (Android and iPhone), not just a mobile friendly webpage like some solutions require
Borrowers get a private code to begin the photo and data gathering process
Built-in geocoding and time stamping within the camera
Photos get stored within the app itself (no browsing folders to later select and upload individually)
User-friendly progress indicator (i.e. percent complete)
Confirmation when successfully submitted by borrower
Known for their dedication and deployment of the latest technologies meant for clients and individual appraisers in their panel, United States Appraisals now invites homeowners to join the ranks.
Fowler said, "As Fannie Mae has begun to review completed exterior and desktop appraisal reports, they have advised there is too much reliance upon assumptions about the condition of the interior." He added, "Our release of ValuGuard is timely, as lenders need assurance their loans will be eligible for delivery to the GSE, averting future repurchase requests."
Fowler went on to make very clear that obtaining this information on the interior condition is not only encouraged by Fannie Mae, it is a requirement. AMCs and their appraisers must enlist the help of someone in a position to gather it.
OwnerInsight (Clear Capital)
Launched in April 2020, lenders, AMCs and tech platforms can build API connections to enable OwnerInsight within their workflows. "OwnerInsight walks homeowners through a logical, easy-to-follow process of taking photos and answering a few questions about the quality, condition, and unique characteristics of their home," said Duane Andrews, CEO and Co-Founder of Clear Capital. "In order to provide easy accessibility to this helpful and timely technology, we are currently providing OwnerInsight, along with help desk phone support, at no cost to all lenders, appraisers, and AMCs."
Additionally, Clear Capital is making OwnerInsight seamlessly available to lenders who are on the Ellie Mae Digital Lending Platform via Encompass Partner Connect.
United States Appraisals and Clear Capital are not the only vendors having launched such apps. Below are a few others:
PropertyAssist (CoreLogic / a la mode)
OpenHouse (First American / ACI)
INvision YourHome (Class Valuation)
OnSite (Bradford Technologies / ClickFORMS)
Virtual Inspections (Reggora)
Directed Remote Data Collection (Accurate Group)
ProxyPics
With some of these vendors, you don't have to be a customer to use the mobile apps. Some are free for the long-term, others are free during a specified time for COVID-19.
Of course, anytime we talk appraisals and valuation, questions surrounding turn-time and quality always immediately follow. According to Fowler, regarding quality, engaging the homeowners in the process is a tremendous help to individual appraisers and to his AMC's review appraisers. "The more insight into the subject property the better for everyone involved," Fowler said. "A drive-by appraisal with interior photos and some added data from the homeowner is proving to be very effective in determining accurate valuations," he added.
Appraisal turn-times in recent months had been under pressure, with historically low interest rates and jam-packed lender pipelines for refinances. Capacity constraints were evident. In speaking to several lenders and AMCs, all tend to agree that these alternative appraisal products have made a noticeable difference in turn-times, many suggesting three to five days improvement.
Our Take – The Future of These Apps
My mind tends to linger to the long-discussed shortage of appraisers and so few new entrants into the profession. As I have yet to see any major industry group with the ability to aggressively pursue stopping this pending train wreck, it seems clear to me that we are headed toward a mostly data driven valuation process.
I anticipate these innovative mobile apps that enlist the homeowners in the valuation workflow will soon become mainstream, not going dormant when the pandemic subsides. Primary reasons:
At least one vendor launched their app a few years ago when specific markets had severe appraiser shortages during a refi boom
Appraiser shortages will get progressively worse, in key markets and ultimately on a national level
GSEs and others have been building massive property and valuation datasets for years (similar to a title-plant for title insurance); It's about the data
These mobile apps are completely in line with the 'hybrid appraisal' model whereby someone other than the appraiser – a data gatherer – makes a site visit to the subject property; Why pay a realtor or another party to take interior photos for a fee, when homeowners will do it for free?
Lenders like paying less for appraisals, as long as they (and their investors) trust the data
As is often said, 'A picture is worth a thousand words' – or maybe an extra thousand dollars here and there in the case of a photo-enhanced drive-by appraisals.
(Views expressed in this article do not necessarily reflect policy of the Mortgage Bankers Association, nor do they connote an MBA endorsement of a specific company, product or service. MBA NewsLink welcomes your submissions. Inquiries can be sent to Mike Sorohan, editor, at msorohan@mba.org; or Michael Tucker, editorial manager, at mtucker@mba.org.)