Longtime Industry Executive, Advisor Gene Spencer Passes Away
Gene Spencer, who spent 28 years at Fannie Mae and 10 years with the Homeownership Preservation Foundation and who served in a number of advisory capacities with the Mortgage Bankers Association and other industry organizations, passed away on Nov. 30 in Gloucester Point, Va.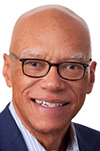 Mr. Spencer was 67. He had been suffering from pancreatic cancer.
Mr. Spencer was a widely recognized housing finance advisor who worked with MBA, the Consumer Financial Protection Bureau, Quicken Loans, Ocwen, CLR and others.
"I had the opportunity to work with Gene for many years when we were both at Fannie Mae, and then again when he became involved in homeownership counseling and preservation work," said MBA Chief Economist Mike Fratantoni, "Every time I spoke with him he was always upbeat. He had a unique ability to thoughtfully convey information in a particularly effective manner. He also was unfailingly kind and thoughtful. Gene was always a great ambassador for our industry."
Gene Alonzo Spencer was born Jan. 2, 1953 in Emporia, Va. He earned a full football scholarship to The College of William and Mary, graduating with a bachelor's degree in psychology in 1975. He later earned his executive masters degree in leadership from the Georgetown University McDonough School of Business in 2010.
In 1985 Mr. Spencer joined Fannie Mae as a Director. He created and led Fannie Mae's ACCESS program for emerging securities firm and created the Fannie Mae MBS Investor Helpline and the first online MBS information delivery system. In 1993 he was promoted to Vice President of Mortgage Securities Investor Marketing, where he developed and led execution of capital markets strategies that built Fannie Mae MBS into a global brand with $2.5 trillion outstanding. In 1998 he became Fannie Mae's Vice President of Investor Relations and remained in that capacity until 2006.
In 2009 Mr. Spencer joined the Homeownership Preservation Foundation, serving first as Senior Vice President of Stakeholder Engagement, Policy and Research. He managed financial industry relations, public strategies policy and research to reinforce organization value and viability. In June 2018 Mr. Spencer was made CEO of the Foundation, serving in that capacity until this past January. Until recently Mr. Spencer served as an Independent Housing Finance Advisor until ill health forced him to step down.
In 2014 the Consumer Financial Protection Bureau appointed Mr. Spencer to its Consumer Advisory Board. He served on the Board until September 2017, including as Chair of its Mortgages Committee.
"Gene was a great man – always supportive of his colleagues , a proud family man and a 'go-to' teammate," said David Beranbaum, Deputy Assistant Secretary for Housing Counseling with HUD. "Gene never wavered in his support for the organizations efforts to ensure that every American had an affordable and safe place to call home. He served as a strong and consistent voice on Capitol Hill and to financial markets for social justice and decency. Gene's legacy will extend well beyond his presence among us, and I feel privileged to have known him as a colleague and a friend."
Berenbaum added that during Mr. Spencer's career, "he created pathways to homeownership for low to moderate income working families and was a trailblazer for diverse market segments through innovative approaches to housing finance."
Barry Zigas, Senior Fellow with Consumer Federation of America, worked with Mr. Spencer when they were both officers at Fannie Mae, and later as a client through Zigas and Associates LLC's work with HPF's annual counseling industry convenings.
"Gene combined a great depth of technical know-how with a warm, collaborative approach to complex challenges," Zigas said. "His warmth, congeniality and wonderful sense of humor infused his professional relationships and made him a valued and sought-after colleague. He will be missed by everyone who worked with him. His contributions to growing and sustaining the housing counseling profession are a fitting memorial. And he was always a great guy to share fishing stories with!"
Mr. Spencer is survived by his spouse and partner since 2004, Martha M. Houle; his brother, Turner M. Spencer; and nieces Trina Spencer and Ava Chafin Wolfe.