Leah Sommerville and Chris Lewis: RON–The Last Mile in the eClosing Marathon

Leah Sommerville is Senior Account Executive with DocMagic, Torrance, Calif.; she can be reached at leah@docmagic.com. Chris Lewis is Enterprise Solutions Specialist with DocMagic; he can be reached at chrisl@docmagic.com.
Most consumers have recently experienced strict stay-at-home orders, or minimally, are currently adhering to social-distancing guidelines. As consumers make efforts to significantly limit in-person interaction, the demand for remote online notarization eClosings, which allow borrowers to join real estate closings from the comfort of and, more importantly, safety of their homes, has increased exponentially. This begs the question: Why isn't everyone closing every loan with RON?
While there is industry-wide interest to adopt RON technology, the reality is that underwriting practices, settlement adoption, county recorder participation and lack of uniform national RON legislation remain among the toughest challenges to adopting fully digital RON eClosings at scale.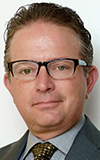 Successfully integrating a full RON eClosing initiative at scale will be a marathon, not a sprint. If lenders hope to reach the finish line with completely digital RON eMortgages, they should start the eClosing race with a tactical approach that includes hybrid eClosings to digitize outdated processes. Historically, lenders that implemented hybrid eClosing platforms—which included eSigning 80% of the closing package and wet-signing paper promissory notes, the deed of trust, and additional documents which require notarization—were considered advanced. This year, however, COVID-19 has expedited the digital environment more in three months than in the previous three years. Because almost all consumers consent to eSigning their loan documents, there are currently no impediments to successfully adopting Hybrid 1 eClosings for the vast majority of your loans. Hybrid 1 is the industry's eClosing standard, and eClose providers can implement this baseline version of eClosing within a couple of days.
Hybrid 2 eClosings, which include eNotes, are the next recommended phase of a successful eClosing initiative. Hybrid 2 eClosings require a MERS® membership and eNote-related secondary market relationships; they can be introduced as your organization becomes familiar with the Hybrid 1 process.
The last mile in the eClosing marathon is adopting a completely scalable, paperless RON eClosing initiative. But as with any marathon, there is no shortcut to the last mile. You must still run the first 95% of the race—in this case by transitioning to digital with 100% Hybrid 1 eClosing adoption and then implementing eNotes—to prepare for the finish line with fully digital RON eClosings.
The Remaining Hurdles
Midway through 2020, more than half the states have passed permanent RON legislation and most of the remaining half had authorized remote notarizations through emergency action. However, temporary emergency RON guidance was not designed specifically for mortgage closings. Because RON legislation currently varies by state, there are many inconsistencies, including requirements for signature types, notary stamp differences, variations in notary log stipulations and diverse language for papering out documents. Furthermore, some states require RON providers to be approved by the Secretary of State, while other states allow notaries to select any eNotary provider.
Fortunately, at the guidance of MISMO and the GSEs, federal legislation has been introduced to allow RON in all 50 states, which would bring uniformity to RON regulations. As this legislation continues to evolve, it's important to consider the current consistencies contained within existing RON legislation. These consistencies include additional ID validation requirements such as KBAs (Knowledge-Based Authentication) and technological credential analysis for reduced risk of fraud, and the increasingly valuable ability to allow borrowers to join closings from any location. Most eClosing platforms which provide RON include technology to accommodate for these additional ID validation requirements.
Underwriter acceptance is also an important consideration when contemplating RON adoption at scale. Unfortunately, many underwriters will only underwrite RON eClosings in states with permanent RON legislation. Fluid emergency RON guidance and the lack of national, uniform RON legislation are among the main reasons that many large underwriters are currently uncomfortable underwriting RON. Furthermore, RON requires a powerful dynamic shift for settlement partners. In the RON eClosing realm, settlement is no longer required to facilitate the actual closings or manage notaries. Instead, RON notaries are typically outsourced, which can create a risk-balance concern. Industry-wide RON adoption at scale will require settlement and underwriter cooperation in order to achieve full participation from all stakeholders.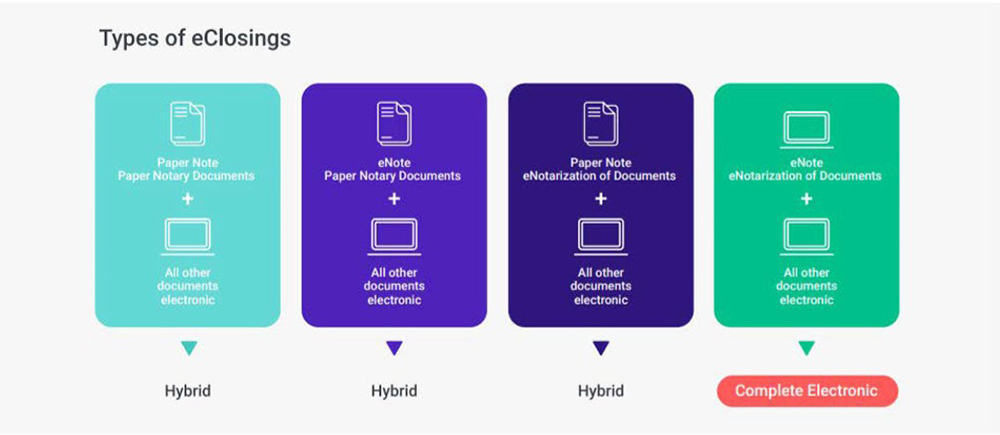 County recorders, whose support is critical, also have varying levels of RON acceptance. The United States has 3,590 county recording jurisdictions, many with different processes, rules and technologies. Regrettably, this results in 3,590 potentially disparate processes for recording real estate transactions. Unfortunately, approximately 1,400 jurisdictions don't currently eRecord. Of those that do, a small portion still don't accept all document types, such as electronic deeds. However, there are several bright spots for RON at the county recording level: 88.7% of the population resides in a count that does eRecord; 13 states permit papering out electronic documents—including those that have been eNotarized and eSigned—in counties that don't allow e-recording; and as a result of the pandemic, jurisdictions are drastically improving their processes daily to eRecord RON eClosings.
Your Marathon Game Plan
As most organizations scramble to provide RON eClosings as quickly as possible, it's striking to realize that others still rely on outdated 100% paper manual processes. Like any marathon, the race to full provide full RON eClosings is easily won with the proper preparation. It's imperative for organizations to begin their tactical approach by implementing some form of eClosing, at scale. Unfortunately, if you're not already implementing Hybrid 1 eClosings, you're falling behind.
The good news is that Hybrid 1 is the easiest version of eClosing to implement and scale. It also significantly reduces in-person contact by allowing borrowers to eSign the majority of loan documents in advance, from the safety of their homes. From that point, the in-person signing session is reduced to 15 minutes or less. Hybrid 1 is the foundation for RON eClosings and the easiest version of eClosing to implement and scale because it circumvents all obstacles. When the borrower consents to eSign, there are no impediments to 100% adoption, as Hybrid 1 eClosings are accepted by every underwriter, in every state, and are recordable in every county. Settlement has been quick to adopt Hybrid 1s because of their ability to reduce errors, enhance efficiency, and facilitate more closings each day. Underwriters love the Hybrid 1 because it doesn't affect risk. Additionally, all investors will accept Hybrid 1 eClosings because the Note is still papered out and Hybrid 1s are accepted in every county and state. Borrowers embrace hybrid eClosings because the process increases the digital footprint, reduces paper, and decreases human interaction.
The next step in your tactical approach to eClosing should be the introduction of eNotes. 2020 is the year of eNotes; in the first half of this year alone there has been a 482% increase in unique eNote registrations compared to all of 2019, a 3513% increase over 2018, and a 11,943% increase compared to 2017. In addition to previous GSE acceptance from Fannie Mae and Freddie Mac, the Federal Home Loan Banks, Ginnie Mae and HUD will begin accepting eNotes in 2020—further ushering eNotes into mainstream closing practices. eNotes are the most advantageous process improvement lenders can implement to improve profit margins because eNotes are available instantaneously and can be delivered in mere seconds instead of weeks.
Furthermore, because eNotes are indestructible, they greatly reduce the risk and resources associated with the safekeeping (and even shipping) of paper promissory notes. eNotes require MERS® registration and secondary market relationships to support eNote initiatives. It's imperative that eClose providers can generate Category One SMART Doc® eNotes and provide proprietary eVault technology to store these eNotes securely. By introducing eNotes, you eliminate another document to execute in person, leaving only one remaining document for wet signature, which requires recording.
The Last Mile
The last mile of the eClosing marathon is to introduce RON eClosings at scale. RON eClosings are here to stay and will usurp all other forms of closing by becoming the industry standard. Simply put, 2021 will be the year of RON. If borrowers didn't expect eClosings before the pandemic, they certainly do now. A digital experience is no longer an improved customer experience—it's now a consumer expectation. Jeff Bezos will become the world's first trillionaire because Amazon has improved the shopping experience to the point where consumers expect instant online gratification. This translates to the homebuying experience as well. Approximately 90% of homebuyers shop for their homes online, and the digital experience isn't limited to millennials—nearly 75% of senior citizens also search for homes online. Borrowers complete their loan application online. So why force customers to revert to outdated paper methods at the closing, the last possible touchpoint between lenders and borrowers?
If 2020 is the year of the eNote, how can the industry prepare for the year of RON in 2021? While state RON legislation continues to ebb and flow, the GSEs and a vast majority of state legislatures have come together to recommend uniform, federal RON legislation, which will continue to allow state guidance. Underwriters are getting onboard, as major underwriting firms are actively addressing risk profiles to add RON as a mainstream option within their approved guidelines. These underwriters continue to cooperate to create uniform RON underwriting standards. Furthermore, RON is no longer a new concept, and settlement adoption is booming. Market demand has caused many organizations to adapt in order to stay in business. More and more settlement partners are embracing RON because it has been the best method to close loans during COVID and they realize that the potential revenue from RON closings outweigh the risks. Additionally, eRecording increases almost daily as counties upgrade technology to allow for electronic recording and adopt new processes to accommodate eNotarization. All counties are expected to eRecord by 2021.
The Finish Line
COVID-19 rapidly has accelerated RON interest and, more importantly, adoption—and there's no end in sight. If borrowers didn't expect eClosings before the pandemic, they do now. By eliminating in-person contact, increasing efficiency, and greatly reducing per closing costs, it's easy to see why RON eClosings provide the optimal closing experience for every stakeholder.
But, before any organization can win the RON eClosing marathon, it's imperative to begin a tactical approach now. Lenders must implement eClosing initiatives immediately. RON is coming. The momentum is already here. Impediments will continue to fall. Lenders who don't start the race today will be left in the dust at the starting line, while others are taking a remote victory lap and reaping the benefits, including greater market share, increased revenue and a better borrower experience.
(Views expressed in this article do not necessarily reflect policy of the Mortgage Bankers Association, nor do they connote an MBA endorsement of a specific company, product or service. MBA NewsLink welcomes your submissions. Inquiries can be sent to Mike Sorohan, editor, at msorohan@mba.org; or Michael Tucker, editorial manager, at mtucker@mba.org.)