MBA Launches Advocacy Ad Campaign
The Mortgage Bankers Association yesterday launched a print and advertising campaign targeting Capitol Hill lawmakers, Washington "influencers" and consumers.
The ads, which run in Politico's Morning Money email newsletter and the Washington Post, link to www.mba.org/consumerinfo, a newly created consumer-focused page. The ads will run for the next three weeks.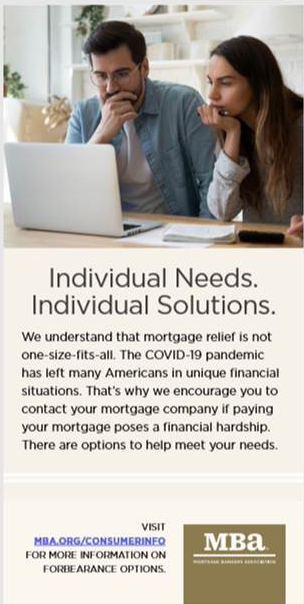 MBA COO Marcia M. Davies said the ad campaign "gives us the opportunity to target both inside the Beltway and consumer audiences. In addition to their run of site, we will appear in rotation on their personal finance pages and with content keywords such as 'forbearance,' 'mortgage relief,' 'mortgage forgiveness,' 'lump sum' and 'deferment.'"
For Politico, MBA will use both a passive and push approach to reach its target audience, starting in its highly read Morning Money email newsletter, which targets Washington to Wall Street. It is sent to 35,000 opt-in subscribers and covers finance news and information. MBA has also booked Politico.com's Finance & Tax Section, which houses every financial or tax related political news article and has nearly 300,000 impressions per week.
The ad campaign is a collaborative effort of MBA's Marketing team and Residential Policy and Member Engagement departments.