MBA Tech All-Star: Lightning Strikes for FirstClose's Corey Smith
Corey Smith, Chief Product Officer with FirstClose in Austin, Texas, has been a mortgage industry technical pioneer since he was in college. At age 19 he started Flood Zones Inc. with two brothers in their parents' Austin home.
Flood Zones Inc. focused on flood determinations for mortgage companies, banks and credit unions. "Back then a lot of banks were still doing that work in-house; it was a very time-consuming manual process," Smith said. "So we started a business to centralize that and take that burden off of them."
Lightning struck in 1994 when President Clinton signed a law that required a flood certification on all properties with mortgages. "So we were there at the right place at the right time when the legislation hit and the business took off like gangbusters from there," Smith said. "Because now it was a mandatory thing that the institutions had to do and they didn't want to do it in-house anymore, so we became experts in that field. Eventually we ended up automating it; that's where my expertise came in."
The firm quickly found office space and moved out of the house.
Smith said his family's firm digitized all existing FEMA flood maps. "Back in 1994 and 1995 when we first came out with that technology, it was all homegrown," he said. "We used Geographic Information System technology and the original TIGER [Topologically Integrated Geographic Encoding and Referencing] Census data that had latitude and longitude down to the block level. We ended up digitizing 100,000-plus flood maps."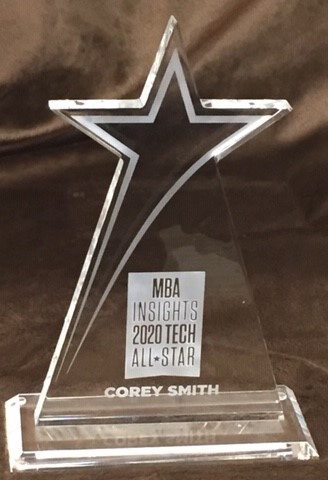 Digitizing "revolutionized" the industry, Smith said, noting the flood certification process had been totally manual until that point. "People would literally look up where a particular property was located on a street map, then go find the corresponding flood map–and often one city could have 20 different FEMA map panels. FEMA flood maps were not detailed; you might get a major street and a cross street but you're not going to get all the detailed streets in there so there was some guesswork involved. That's where the digitizing came in. It really helped to revolutionize not only our business but the entire industry."
It was a "huge" project. "But a lot of fun," Smith said.
Today as FirstClose's Chief Product Officer, Smith work across departments to drive the firm's product offering and assists in brand development, marketing, messaging, sales, operations and technology strategies.
Smith also developed the first "bundled" report that includes credit, flood, valuation, title and tax information in the single consolidated FirstClose ONE report. This approach streamlines the order-fulfillment process and can save lenders days or weeks compared to traditional reporting methods, he said.
Having one comprehensive report keeps lenders organized, cuts down on time spent and helps save costs by consolidating vendor management, Smith said. The FirstClose ONE report removes the need for numerous separate vendors on different platforms because it provides credit, income verification, valuation, flood, title, closing and recording, tax tracking and portfolio monitoring all in one platform.
More than 250 financial institutions across the U.S. currently use FirstClose technology and the firm has partnerships with companies including Ellie Mae, MeridianLink, Blend, Calyx, Temenos, Fiserv, CoreLogic, Black Knight, First American, Chicago Title, Trans Union, Equifax, Accurate Group, Collateral Analytics, CBC Innovis, CSC, Chronos Solutions, Clear Capital and Title365.
"I have always been entrepreneurial-spirited, ever since high school," Smith said. "It's always been a passion to start something and watch it grow. The whole building aspect of being entrepreneurial is exciting to me."