What $1 Million Gets in Today's Housing Market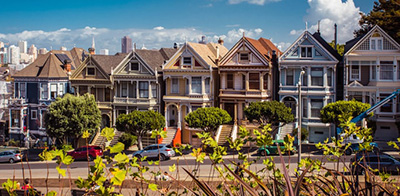 Location, location, location: take a $75,000 bungalow in Garfield Heights, Ohio and plop it down on a 1/3-acre lot in McLean, Va., and it suddenly becomes an $800,000 object of a bidding war.
Raise that benchmark a notch, to $1 million, says Zillow, Seattle, and one finds a tremendous amount of disparity in the results. For example, a $1 million mansion in Texas might not even get you a second bedroom in a San Francisco condo.
The Zillow analysis found the typical $1 million home in the U.S. has four bedrooms, two-and-a-half bathrooms and 2,200 square feet. In large cities, $1 million homes range from a 900-square-foot condo in San Francisco to a 7,000-square-foot home in El Paso.
"Owning a $1 million home was once a status symbol, but now, due to escalating home prices, it feels closer to the price of entry for homeownership in parts of the country," said Cheryl Young, senior economist with Zillow. "Nationwide, the typical $1 million home at 2,200 square feet may not be sufficient to impress colleagues or neighbors. Only in the most affordable markets, such as some in the south, will you find $1 million homes that verge on palatial, and the reality for some markets–particularly those on the coast and in California–is that $1 million homes often stand out more for their diminutive size given their hefty price tags.
The report said in most large cities–87 of the largest 100 included in the analysis–a detached single-family house is the standard for a $1 million home. All have at least three bedrooms and one-and-a-half bathrooms, and they range from around 1,400 square feet in Fremont, Calif., to more than 7,000 square feet in El Paso.
In addition to El Paso, $1 million will buy a mansion of at least 5,000 square feet in nine other large U.S. cities. Most are in southern states, including four in Texas, two in Tennessee and one each in North Carolina and Alabama. The smallest $1 million single-family homes are found in Honolulu and California – the typical $1 million homes in Honolulu, Fremont, Oakland, San Jose and Los Angeles are less than 2,000 square feet.
The report noted, however, in some cities millionaires often share walls with their neighbors. This could be in a multi-unit building such as a condo or a row house joined by common sidewalls. Condos make up a much larger share of the million-dollar market in some large, coastal cities, but the space that $1 million buys varies considerably. The smallest $1 million homes of any type are in San Francisco, where the standout home is a 900-square-foot condo, while a typical $1 million condo in Irvine is nearly 2,100 square feet–larger than $1 million detached homes in neighboring Los Angeles. Mid-size condos between 1,600 and 1,900 square feet are the norm in Florida cities Miami, Naples and Boca Raton.
Zillow said townhouses and row houses are the standout $1 million homes in Minneapolis, Washington, D.C., and Philadelphia, perhaps owing to differences in regional construction habits. Boston, New Orleans and Long Beach, Calif., have an unusually high share of du-/tri-/quadplexes worth $1 million.
"This proliferation of smaller $1 million homes in pricey markets points to how out of reach homeownership likely is for middle-class families or first-time buyers," Young said. "Those hoping to own in those expensive markets are forced to move farther out from city centers, or to markets where you don't need $1 million to afford a home big enough for your needs."