MBA Chart of the Week: MBA Builder Applications Survey vs. Census New Home Sales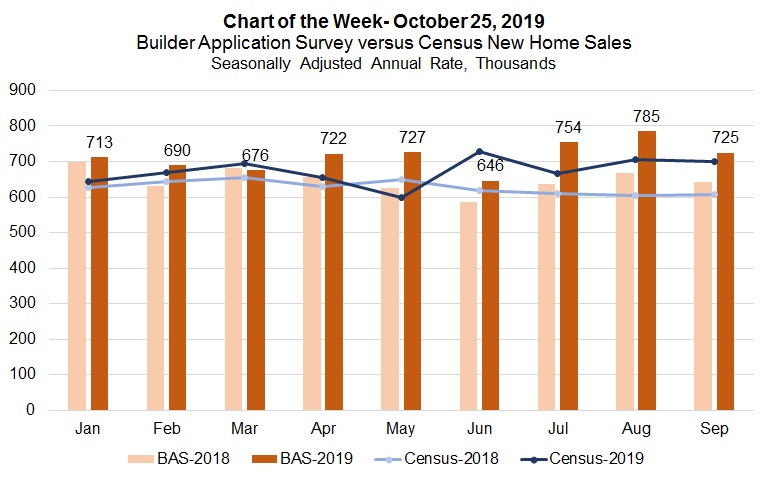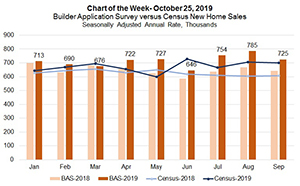 According to data from the MBA Builder Applications Survey (https://www.mba.org/news-research-and-resources/research-and-economics/single-family-research/builder-applications-survey), new home purchase activity fell in September but remained higher than a year ago, continuing a trend where purchase demand for new homes for sale this year have consistently outpaced year ago levels.
The U.S. Census Bureau series for new home sales has also shown a similar trend of year-over-year growth, and tracks closely to our BAS estimates shown in this week's chart.
In a separate report from Census earlier this month, single-family starts remained robust, increasing slightly to a pace of 918,000 units–the highest since May. However, the increase in single-family starts was solely concentrated in the South. Most of the country still needs more new construction to meet job growth and demand. It is promising that single-family permits continued to rise, increasing for the fifth consecutive month.
This strength in new construction and new home sales should continue in the final months of the year, as a combination of a strong job market and low mortgage rates continue to create housing demand. The pick-up in new construction is a welcome sign that builders are moving to meet this demand. Buyer interest has been particularly robust among first-time homebuyers, whose share of home sales continues to increase. Millennials' interest in homeownership is strong, and should continue to support home sales growth heading into next year.
Joel Kan jkan@mba.org; Anh Doan adoan@mba.org.