Brian Stoffers, CMB, Sworn in as 2020 MBA Chairman; Susan Stewart Sworn in as Chairman-Elect, Kristy Fercho as Vice Chairman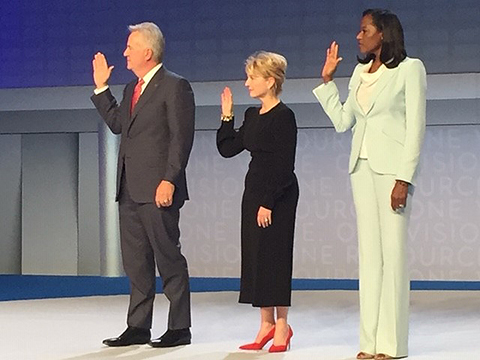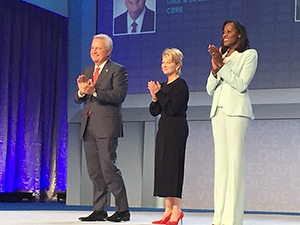 AUSTIN, TEXAS–Brian Stoffers, CMB, Global President of Debt & Structured Finance with CBRE, Houston was sworn in yesterday as 2020 Chairman of the Mortgage Bankers Association here during the association's 2019 Annual Convention & Expo.
Stoffers has been an active MBA member for more than 25 years, holding numerous leadership positions within the organization. He serves on MBA's Executive Committee and is Chairman of the Audit Committee and Co-Chair of the GSE Reform Committee. Most recently, he served as 2019 Chairman of MBA's Diversity and Inclusion Committee. In addition, Stoffers previously served on the Commercial Real Estate/Multifamily Finance Board of Directors and is the former Chairman of the Task Force on GSE Reform and Capital Markets Committee.
"Being elected Chairman of MBA is a humbling experience," Stoffers said. "I am honored to serve as MBA's 2020 Chairman and I am excited for the year ahead. I look forward to working with Susan and Kristy to help MBA be successful and ensure that our members' needs and issues are well served."
Susan Stewart, CEO of SWBC Mortgage, San Antonio, Texas,and Kristy Fercho, Executive Vice President and President of Mortgage with Flagstar Bank, Troy, Mich., were also sworn in as Chairman-Elect and Vice Chairman, respectively.
Stewart joined SWBC in 1989. Under her leadership, SWBC Mortgage has grown from three employees to 615 operating in 39 states, with annual sales of $3 billion and a servicing portfolio exceeding $10 billion.
Stewart currently serves as a member of MBA's Board of Directors, sits on MBA's Residential Board of Governors and is on the board of the MBA Opens Doors Foundation. In addition to serving on ODF's board, both Stewart and SWBC Mortgage have been recognized as Guardian-level donors of the organization. Recently, Stewart was recognized as one of HousingWire's 2019 Women of Influence.
Fercho joined Flagstar Bank in 2017 after 15 years with Fannie Mae, where she served as Senior Vice President and Customer Delivery Executive, responsible for strategy and business performance of all single-family customers in the western United States. Prior to Fannie Mae, she worked for PepsiCo and Baxter Healthcare.
Fercho currently serves as a member of MBA's Board of Directors and sits on MBA's Audit Committee as well as RESBOG. She is also on the board of the Detroit Zoological Society and CityYear, and is a past president of the board of Habitat for Humanity, Chicago. MReport recognized her as one of its Top Women in Housing, and Diversity Journal listed her among its Women Worth Watching.