Staying Profitable in a Competitive Market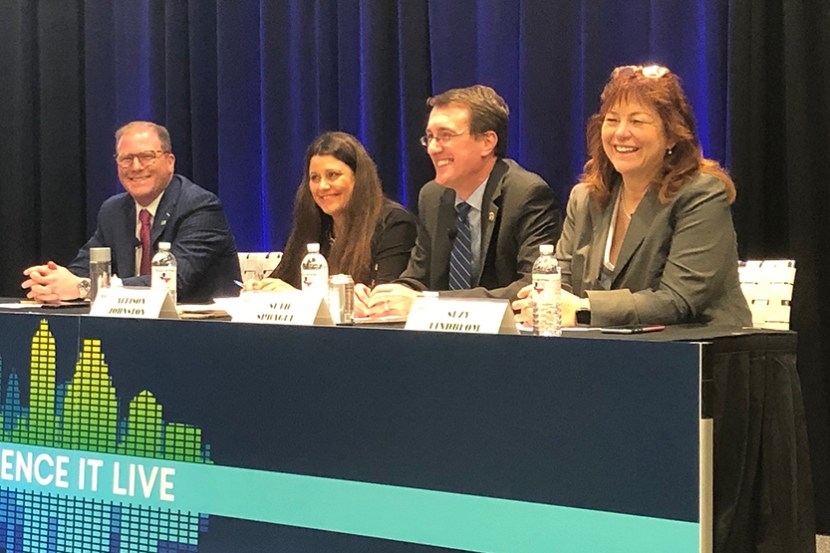 AUSTIN, TEXAS–Lenders can stay profitable in good markets and bad by making changes on both the expense and the revenue side, analysts said here at the Mortgage Bankers Association's 2019 Annual Convention & Expo.
MBA Vice President of Industry Analysis Marina Walsh said MBA forecasts total mortgage originations will reach $2.06 trillion this year–the highest since 2007–before likely decreasing to $1.89 trillion next year. In 2021, MBA expects purchase originations to total $1.33 trillion and refinance originations to reach $432 billion, or $1.74 trillion total. "Right now volume is very good, but we have to prepare for what things might look like six months from now or a year from now," she said.
Walsh said generally speaking, higher origination volume translated to higher profits for lenders. But there are exceptions. "If you're talking strictly production volume, the best year in terms of originations was 2003 with $3.8 trillion," she said. "But the best year for profitability was 2012, with $2 trillion in volume. That year had the highest profits since MBA and STRATMOR Group started following the data in 1998."
Walsh noted firms that that retain servicing rights generally see higher profitability than those that do not. "In general, servicing retention helps boost profits," she said.
One required condition for staying profitable is staff capacity management, said Rick Bechtel, Executive Vice President with TD Bank, Mt. Laurel, N.J. TD Bank is the eighth-largest U.S. bank. He said many lenders had to lay off some workers last year until the world changed in March when refinances jumped. "I suspect most are still trying to staff to a midpoint and trying to hire people who have the capacity to flex," he said. "Do they have another gear in them when the time comes?"
The next step would be process redesign, Bechtel said. "Maybe have processors only do 10 things rather than all 20 things," he said. But he noted a complicating factor when it comes to redesigning lending processes: "[the industry is] still only part way through the automation process," he said. "We've automated Step A, but Steps B and C are still done manually. Step D might be automated, but not Steps E or F." He said it feels almost like the "zigging and zagging" required to get through the process requires humans to be more savvy, not less.
"That's not an indictment of technology folks; the stuff getting done now is must-have, but you're only halfway there," Bechtel said. "It's like you're trying to drive an autonomous vehicle, but the road is not mapped yet, so you need to keep a steering wheel in the car."
Alison Johnston, COO with independent mortgage bank Success Mortgage Partners, Plymouth, Mich., said monitoring the bottom line is a simple way to boost profitability. "Two years ago we launched a cost savings campaign," she said. "Everybody in the company participated. We saved $400,000 a month. This year, we're saving 200,000 a month. If you have not looked at contracts you've signed, if you've not looked at efficiencies, you're spending too much."
Johnston said Success Mortgage Partners gives a small piggy bank as a prize to the department that can cut its expenses the most. "Department heads fight over a small piggy bank prize; they all want to lead the list of savers," she said. "Look at all your venders, ask 'do we have the best deal possible?' We also look at our contracts and our lease negotiations."
Engaging everyone in the company in the cost-cutting competition encourages friendly competition, Johnston said. "It's real dollars; we saved nearly $7 million in two years," she said. "Control overtime, look at your metrics, make sure you're controlling all the expenses you have. This allows us to get a better rate sheet into the hands of our loan officers."