MBA Chart of the Week: CPI Inflation–Shelter Costs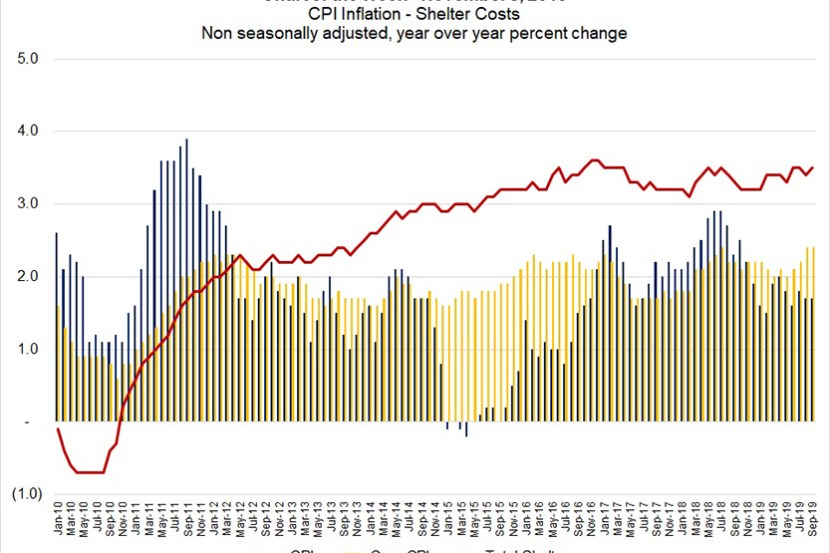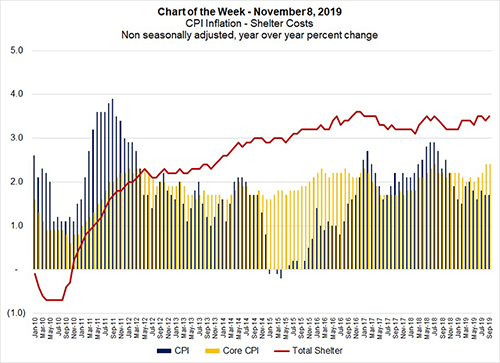 Housing affordability challenges–for both buying and renting–continue to be a topic of discussion. According to the Bureau of Labor Statistics, shelter costs continue to outpace the price growth of overall goods and services, as measured by the Consumer Price Index.
In September, shelter costs increased annually at 3.5 percent, while overall CPI inflation was up 1.7 percent over the same period. The core CPI measure, which excludes the more volatile food and energy prices, was up 2.4 percent over the year. The shelter component, at 33 percent, holds the largest weight in the CPI of any spending category, followed by food (13 percent) and energy (around 8 percent). In other words, housing is a big part of the household budget.
Data from the Federal Housing Finance Agency shows home prices are still rising around 5 percent, while income growth remains in the 3 percent range. Additionally, rental vacancy rates are still low, helping to push CPI rent growth to 3.8 percent. There are signs some of the affordability challenges in the housing market for homebuyers and renters could ease heading into 2020. There has been a recent increase in new residential construction, as well as a rise in permits. We are hopeful that some of this boost to housing supply will offer relief to cost-burdened households.
Looking ahead, low interest rates may also ease affordability tensions. The Federal Reserve has cut short-term rates three times this year, and there's little sign that rates will meaningfully rise again soon. With inflation near its 2 percent target and the economy at full employment, the Federal Reserve has the luxury of being patient before deciding on any future rate moves.
(Joel Kan is associate vice president of economic and industry forecasting with MBA; he can be reached at jkan@mba.org.)