Five Perspectives: Women in Housing Finance Leadership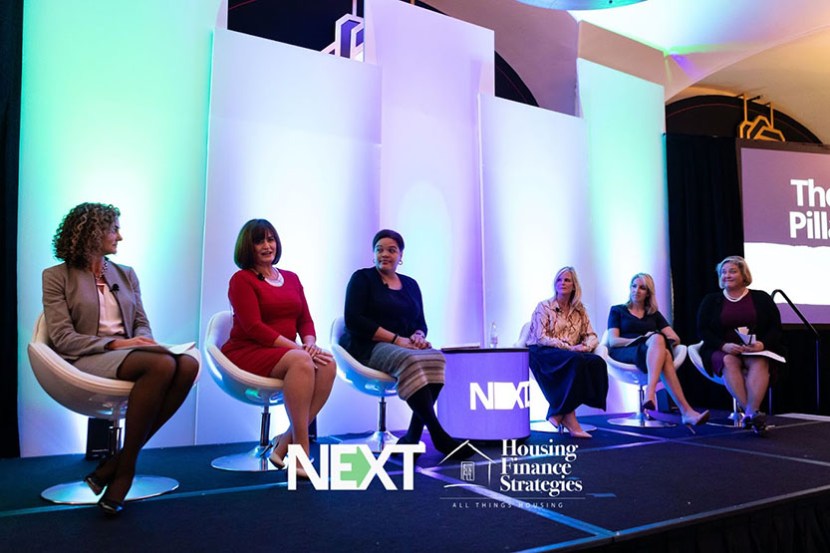 At the recent NEXTDC19 Conference in Washington, D.C., five women of influence in the real estate finance field discussed challenges and opportunities that shaped their careers and helped in transforming the industry. The following are excerpts from that panel discussion.
Panelists
–Marcia Davies, COO of the Mortgage Bankers Association and Founder of mPower, MBA Promoting Opportunities for Women to Extend their Reach;
–Alanna McCargo, Vice President of Housing Finance Policy with the Urban Institute, Washington, D.C.;
–Kris Kully, Partner with Mayer Brown ad President of Women in Housing and Finance, Washington, D.C;
–Lindsey Johnson, President of U.S. Mortgage Insurers, Washington, D.C.; and
–Chris Boyle, Chief Client Officer with Freddie Mac, McLean, Va.
Marcia Davies
(Marcia Davies has been MBA Chief Operating Officer since 2011 and founded mPower in 2016. She previously worked at HUD for 19 months and spent 21 years at Freddie Mac.)
"The whole reason I got in the industry is because of my sister, who is celebrating 41 years at Freddie Mac. I moved to D.C. to be closer to her. I got a job with an association in Georgetown and later left on principle because they terminated my female boss because she wanted equal pay. I told my sister about this, and she told me about a job opening at Freddie Mac. I spent 21 years there and got to reinvent myself several times by working in different areas of the business….
"I left the industry for a while then got a job with FHA. I spent 19 months there but it was a very important 19 months, because I got to see things from a regulator's standpoint during the housing crisis. It really prepared me for my job at MBA. Everything I did leading up to my job at MBA prepared me well, and we have made an impact not only in D.C., but also with our membership…
[On the real estate finance industry] "We have worked to rebuild trust. But it only takes one negative article or one family being displaced. Our industry tends to be painted with a very broad brush. And while a lot of that noise has died down, it takes awhile to rebuild trust. As an industry, we want to make sure that anyone who has access to credit can get it…
[On mPower] "We have been around for three years and we've reached more than 17,000 people. We are all about informing and inspiring and empowering women and making sure that in the field of mortgage finance we are breaking down barriers and creating opportunities. We've been bringing those issues front and center and we hope that momentum continues…
"We've been talking about closing the gender divide in the workplace. For example, as women we think people recognize our work. We don't bring it up as casually as our male coworkers do. Women need to tell others what they bring to the table. If organizations wait to address the gender divide, we're going to lose the opportunity–the time is now. I'm excited for all the opportunities we're seeing…
"The more I travel around the country, the more it has given me a unique window about what is happening in the industry. I was stunned by how so many women in the industry didn't know each other. Now, through mPower, they are working together and starting to break down barriers. We also have to encourage women to take that next step. We want women to make 'the ask,' to have the confidence to go after some of these jobs. And we all need to work together. You can have diversity, but you don't have inclusion unless you have the voices in the room."
Alanna McCargo
(Alanna McCargo is vice president for housing finance policy with the Urban Institute, where she focuses on management, development and strategy for the Housing Finance Policy Center, including cultivation of innovative partnerships within Urban and with external stakeholders. She has more than 20 years of experience in housing finance, policy and financial services in the private, public, and nonprofit sectors on programs, policies and research to improve access to housing and mortgage finance. Before joining UI, she was head of CoreLogic Government Solutions and held leadership roles with Chase, Fannie Mae and the Treasury Department.)
"I came into the business after being in the real estate business for many years. And I'm still trying to get out! I worked through the crisis for more than a decade at Fannie Mae. I learned has also shaped what happened to me during my career. I learned so much at Fannie Mae and left them to go work at JPMorgan Chase, which was a great experience…
"All along my journey I've looked at data and interpreted it. When I worked with Faith [Schwartz] at CoreLogic it was a treasure trove of data. While at Corelogic we founded the Housing Finance Policy Institute at the Urban Institute, which I now run…
"Given a lot of the demographic trends that have been taking place, we've been focusing on homeownership, down payment assistance, FHA financing and housing reform and servicing reform. It's impacting a lot of people and how we do business. There are huge disparities and gaps. We talk about the homeownership gap, the racial homeownership gap, the black homeownership gap, which has been going down among all groups in the past several years…
"When you look at the population for housing growth, minorities are fueling this business and it's important to keep that in mind. We will be a majority minority country in a few years, and most of the growth will come from Hispanics. These realities are here and a lot of business institutions are rightly starting to think about what this really means. And if they don't address this, the homeownership rate is going to continue to go down…
"The Millennials are the biggest generation we have ever had to serve and they have a lower homeownership rate now than baby boomers did at this time. There are tons of room to grow and we have to keep this in mind when it comes to access to credit and our ability to serve that population."
Kris Kully
(Kris Kully is a partner in Mayer Brown's Washington, D.C. office and a member of the Consumer Financial Services group. She concentrates her practice on federal and state regulatory compliance matters affecting providers of consumer financial products and services. Her practice includes advising clients on compliance with licensing, consumer protection and other practice requirements facing mortgage and consumer lenders/brokers, servicers and investors, as well as other participants in the real estate finance and consumer credit industries. She is a former lawyer for HUD and worked in the financial services industry for a number of years. She has served on the board of directors of the Women in Housing and Finance for a number of years and currently serves as President.)

"I was introduced to the legal world and the housing policy world at the same time. I felt really lucky to be there. And I've helped a number of clients get through the crisis…
"Compliance is going through a new phase under the current Administration. Now, we feel we can refocus and right-size our compliance efforts, but we have to be careful about that, because we're still in a busy compliance era and we have to stop the pendulum from swinging too far…
"There is reason to be hopeful. There have been a lot of efforts at FHA to bring lenders back into the marketplace, many of whom were scared away by the penalties under the False Claims Act, many of which they believed should be 'no harm no foul.' The [recent] Memorandum of Understanding seeks to align things better. I think the intent is to limit the seriousness of treble damages. But I would caution that our FHA lenders and servicers still need to adhere to the guidelines, even though the teeth may not be as sharp. Same with the CFPB. I think the agency is still active, though, and it's not time to drop the ball."
Lindsey Johnson
(Lindsey Johnson has served as President and Executive Director with U.S. Mortgage Insurers, Washington, D.C., since 2015. She served previously as a Director with PwC's Government, Regulatory and Public Policy Team and as Minority Staff Director for the Senate Banking Committee's National Security and International Trade and Finance Subcommittee, and served as Senior Policy Advisor to Senator Mark Kirk, R-Ill., focusing on banking, housing finance reform, and insurance legislation. Before that, she worked for the Federal Home Loan Bank of Atlanta, working on housing finance reform legislative efforts and on legislative issues impacting FHLBank Atlanta in the Dodd-Frank Act, among others, as well as on key legislative matters at the state level.)

"More and more individuals are low down payment borrows. We helped about 1.2 million last year. We know there is an intense focus, especially coming out of the crisis, in balancing the need for credit with mortgage risk. There have been a lot of lessons learned but we provide a valuable piece of the market…
"We fit within the construct of wherever housing finance is heading. We attach ourselves to that loan and we follow it through the entire loan cycle. And we work closely with the GSEs on that. The industry itself is using credit risk management more closely, not just Fannie Mae and Freddie Mac…
"One thing I've been focused on is middle management. Women are one-third less likely as their male colleagues to get that first promotion. Identifying women for the leadership track is one of the most important things we can do. At Women in Housing and Finance it's not so much about promoting women but also creating awareness about the issues and having that conversation."
Chris Boyle
(Chris Boyle is chief client officer and head of the Single-Family Office of the Client with Freddie Mac, responsible for sourcing the company's Single-Family business, which includes client experience and management, marketing, bulk purchases and servicing exchange executions. A veteran of more than 30 years in the mortgage industry, she joined Freddie Mac in 1990 and has held a variety of key leadership roles in client management. Prior to joining Freddie Mac, she held leadership positions in Capital Markets, Sourcing and Sourcing Strategy, Operations and IT with NBD, Carteret S&L and Goldome Bank.)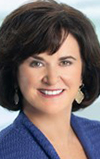 "I started in the retail banking side fresh out of school before spending the past 30 years at Freddie Mac. I was able to participate in creating a mortgage company from the ground up. It was an education I could never have purchased and I learned the mortgage business at the top, which is something most people never get to do, because most of us get put into a silo; I was able to look at it from the top down. Seven years ago I came to run the front-end business of Freddie; since then we've launched three initiatives and it's been quite a ride…
[On women's growth and leadership] "I just finished a voluntary stint as head of D&I for the Single-Family Business at Freddie Mac. We can all agree that financial services in general do not have a lot of C-Suite women. I have worked very hard at this and have been successful. We spend a lot of time giving great thought the D&I and we spend a lot of time on it, and we have a lot of rules and structure behind that. We have protocols and guidelines to give everyone an opportunity. We also do a lot of mentoring and sponsorship…
"Marcia [Davies] has done an amazing job with the mPower movement. We started our own group, #LeadingTheWay, and Freddie Mac has given us a lot of leeway in getting this up and running…
"I hope I'm not just a beacon, I'm hoping that I'm known as the person who is sending the elevator back down."