MBA Chart of the Week: Homeowner Equity in Real Estate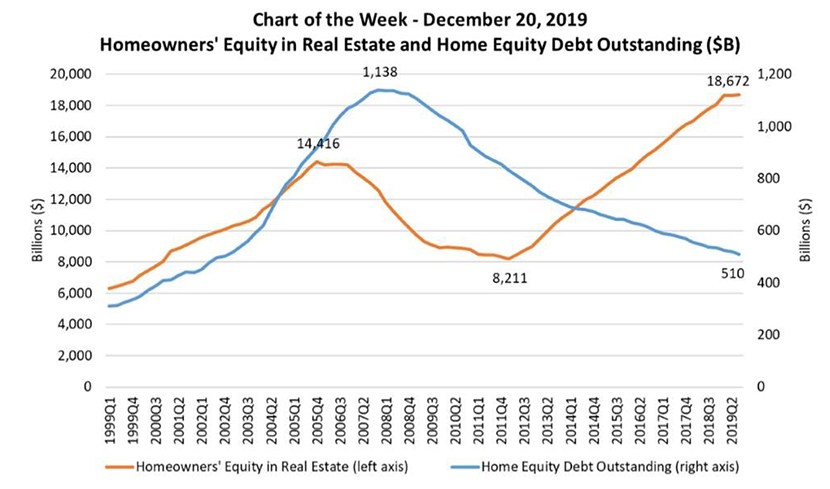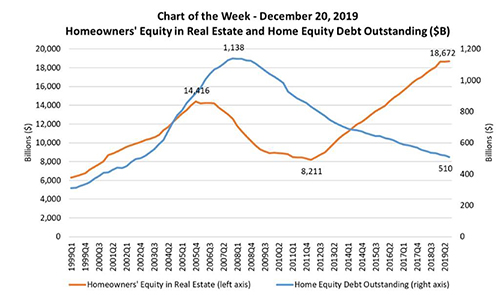 In the third quarter, homeowners' equity in real estate reached $18.7 trillion–continuing a run of consecutive quarterly increases dating back to 2012.
This new peak is 30 percent higher than the previous peak of $14.4 trillion reached in 2005, and 127 percent higher than the most recent low point of $8.2 trillion in 2012. Strong home-price growth in many areas of the country, as well as efforts of households to pay down the principal balance of their mortgages, have contributed to the rise in equity, along with low rates and the healthy job market.
In contrast, home equity debt outstanding continued its decade-long downward trend, reaching a low of $510 billion in the third quarter. Home equity debt outstanding reached its peak of $1.14 trillion in fourth quarter 2007 and has since declined, as borrowers moved away post-recession from home equity loan products and towards alternative financing methods such as credit cards, student loans and other forms of borrowing.
Given such potential for growth in home equity lending, MBA is launching its second annual Home Equity Lending Study in February for MBA members who originate or service open-end home equity lines of credit or closed-end home equity loans. The study covers commitment volumes, applications data, vintage year HELOC utilization, servicing portfolio churn, servicing portfolio mix, transaction terms on existing accounts, repayment, operating structures and overall lender sentiment regarding the business.
For more information on participating in MBA's 2020 Home Equity Lending Study, and to purchase the 2019 findings, please visit www.mba.org/heloc or contact homeequity@mba.org.
– Jon Penniman: jpenniman@mba.org; Joel Kan: jkan@mba.org.