KBRA: Older Office Buildings Struggling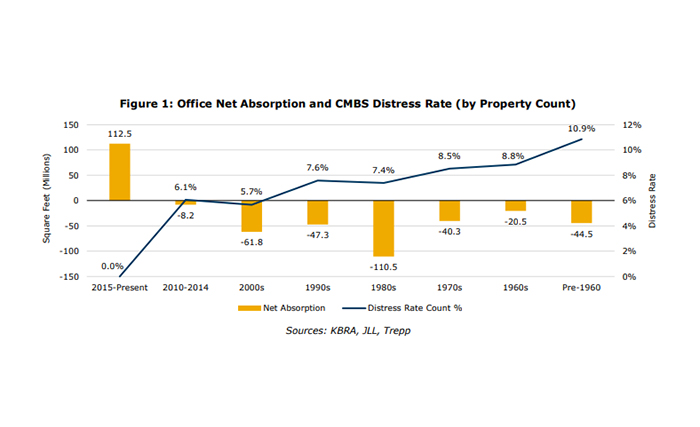 (Image courtesy of KBRA)
KBRA, New York, said in the current office environment, older buildings are seeing particular challenges.
When analyzing the CMBS 2.0 office population within conduit, single borrower (SB) and large loan (LL) deals based on year built, KBRA found that older office buildings are generally associated with higher rates of delinquent or specially serviced current loans, which it defines as the overall "distress rate." The CMBS 2.0 distress rate indicates no distress for properties built 2015 and later, but 10.9% for properties built before 1960.
Those pre-1960 properties make up 13.5% of the total property count.
The largest chunk–buildings constructed in the 1980s–make up 30.1% of the total property count and a 7.4% distress rate.
The overall distress rate by both property count and loan balance is 7.2%.
KBRA also looked at some recent actions by municipalities with high office distress rates. Those include Denver (at 40.4%), Chicago (at 30.4%), Philadelphia (at 22.8%), Washington (at 17.1%) and Houston (at 16.9%).
The firm found that those cities are exploring options such as office-to-residential conversions. Some also have abatement programs for building conversions or improvements.
Manhattan–while not seeing near the same level of distress–has one of the largest office markets in CMBS and also is exploring other options to utilize aging housing stock.
"As older office stock becomes increasingly obsolete and vacant, the demise of these properties could be possibly avoided if building owners convert them into housing, or into other uses such as health care, education, and data centers," KBRA said. "Overall, however, it will take municipalities to come up with creative thinking and redevelopment plans, as well as financial assistance, to possibly help reduce what is expected to be an increase in older vintage CMBS 2.0 office distress rates."