RealPage: Class A Apartments Command 28% Rent Premium Over Class B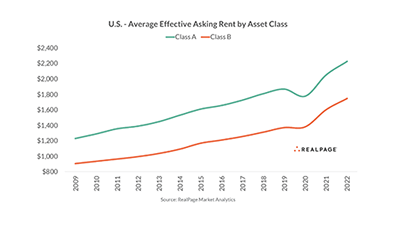 A growing gap between Class A apartment rents and Class B rents is increasing investment activity in middle-market Class B product, reported RealPage, Richardson, Texas.
"The investment thesis itself is fairly simple and straightforward," Carl Whitaker, Director of Research & Analysis at RealPage, said in a new analysis. "In theory, Class B apartments are insulated from the pressure of new supply delivering." He noted the average stabilized Class A rent equaled $2,227 nationally in the fourth quarter while Class B rents averaged $1,748.
That $479 difference per month works out to a 28% rent premium for Class A properties, Whitaker said. "Interestingly, the spread between Class A and Class B rents on a relative basis has actually started to close in recent years, coming down from a peak of a 40% premium in the early 2010s cycle," he said. "Still, the end result is similar: that is, there is a hefty difference between average Class A rents and Class B rents."
Many investors believe Class B housing does not face competition from Class A product because the average Class A property would have to offer a substantial rent concession for a Class B household to move up to Class A, Whitaker noted. "The depth of concession is quite drastic," he said. "For a Class A property to equal the average Class B rent across the U.S., about 14 to 15 weeks free would be required as a discount." This equals just over three months free rent.
"Only in extenuating circumstances has such a deep concession been offered, and almost exclusively site-specific instances at that," Whitaker said. Of the nearly 52,000 properties RealPage surveyed in the fourth quarter, just six properties offered a concession this significant.

With lease-up pressure expected to mount through 2023 and into 2024, the case for Class B apartments remains fairly strong, Whitaker said. "But as is typical, the national storyline doesn't necessarily highlight localized differences," he said. "And that's extremely important in this instance, as the difference between Class A rents and Class B rents can vary at the submarket level."
Whitaker said the difference between Class A rents and Class B rents could be a key indicator in the coming months, especially in submarkets where construction volumes are particularly aggressive. "It's not uncommon for lease-up properties to offer one month free in an effort to build their renter base as quickly as possible," he said. "From that perspective then, there are select neighborhoods across the country where stabilized Class B properties could actually be at risk of losing renters to Class A assets in the event that concessions begin to increase."