Commercial Property Prices Down 7% From Year Ago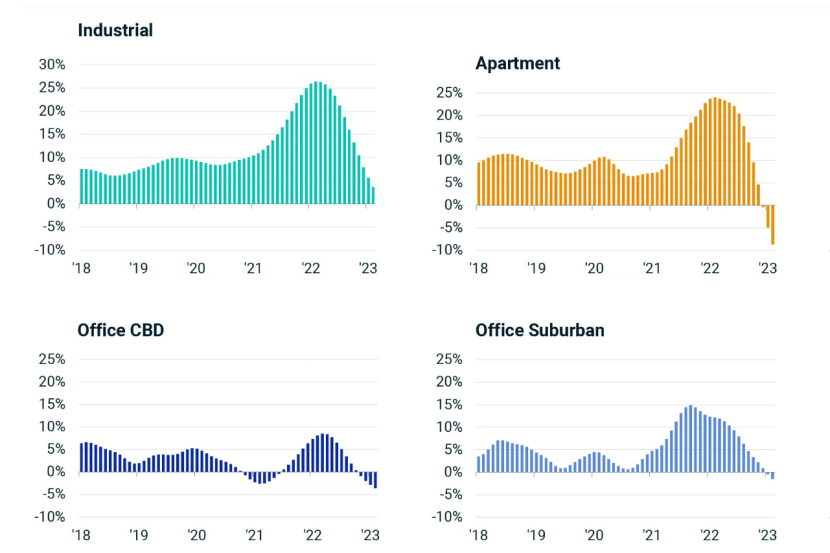 The commercial property pricing decline steepened in February, pulled down by a sharp fall in the apartment sector, reported MSCI, New York.
The MSCI RCA CPPI National All-Property Index dropped 6.9% from a year ago and 2.2% from January.
"Apartment prices experienced the largest annual decline of all property sectors," said Michael Savino, Senior Analyst with MSCI. He noted apartment prices have fallen 8.7% from a year ago, the largest drop for this sector since 2010.
Rising mortgage costs due to interest rate hikes have put pressure on deal activity and property pricing, MSCI reported. Deal volume across all major property types fell 51% year-over-year in February.
Pricing declined across sectors in February compared with January. The industrial index fell 0.4%, the fourth consecutive month of negative returns. On an annual basis, prices still increased, but the rate of gain has sharply decelerated. Prices rose 3.6% year-over-year, down from annual rates greater than 20% seen through the first half of 2022.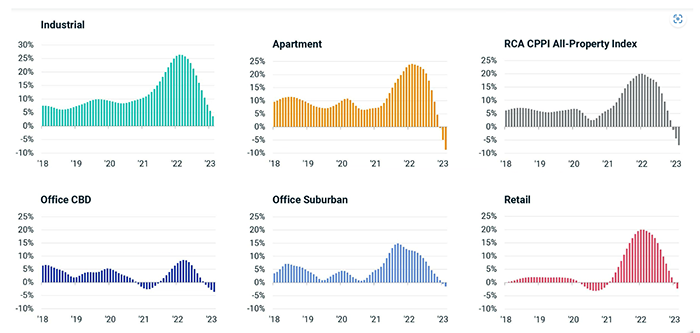 The index for suburban offices fell 0.7% from January and 1.5% from a year ago. The annual decline was the weakest rate seen for suburban offices since late 2010. Central business district office prices dropped 0.2% from January and 3.6% from a year ago, marking four months in a row of annual price declines. Retail prices dropped 2.2% from a year ago.
MSCI reported retail was the only sector that saw deal volume increase in February, though this was due to one large entity-level transaction, it noted.
Green Street, Newport Beach, Calif., said its Commercial Property Price Index decreased by 1.4% in February. This all-property index has fallen 15% from its March 2022 peak, while the index tracking properties in core sectors is now down 18%.
"Property prices are fighting against higher interest rates at both ends of the yield curve, and that's a battle they're not going to win," said Peter Rothemund, Co-Head of Strategic Research at Green Street. "On average, pricing has fallen about 15% from its peak of a year ago, and unless we get some rate relief in the fixed-income markets it's likely we'll see further declines."