AFIRE: U.S. Still Preferable to Europe for CRE Investment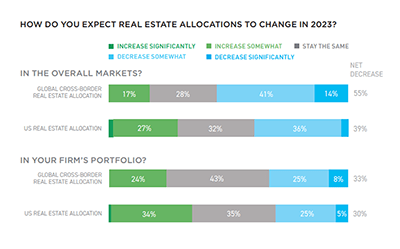 AFIRE, Washington, D.C., reported the U.S. remains a preferred destination compared to Europe for real estate investment across property types, despite challenges.
"While continued rising interest rates, and the future of office are identified as areas of concern at this time, investors' long-term horizon enables them to balance these against opportunities, in particular the relative strength of the U.S. real estate market as a preferred global destination for investment capital," AFIRE CEO Gunnar Branson said.
AFIRE, the association for international real estate investors, surveyed its 175 member organizations from 25 countries with nearly $3 trillion AUM about their sentiment toward U.S. real estate for its Q1 2023 Pulse Report. It found the U.S. commercial real estate market shows stability as a preferred global destination for investment with allocations up 6% from 2022, compared to a 5% decline in European investment.
Multifamily and industrial lead the preferred property types, with the office sector the leading concern for investors, the report said. Hospitality rose as an attractive property type for investment among 43% of investors.
Nearly all investors–97%–agreed continued interest rate rises are weighing on access to capital, limiting reasonable financing and impeding transactions. A sizeable percentage–86% of investors surveyed noted they believe current valuations do not yet reflect climate risks.
Among target markets, New York returned to the number one spot for preferred investment among U.S. cities, up from fifth place last year; London once again is the top investment target among global cities.
In a separate report, the Miami Association of Realtors said China posted the most global web searches for Miami homes in February. China edged out Colombia, which has finished first or second among the top list of foreign countries searching for Miami real estate in each of the last 12 months.
"Global buyers have accelerated their searches and purchases of south Florida real estate with fewer COVID restrictions and political-economic shifts abroad," Miami Association of Realtors Chairman of the Board Ines Hegedus-Garcia said. "China recently lifted its zero-COVID policy after three years of lockdowns, which limited the travel of Chinese nationals to the U.S., and Miami real estate sells at a lower price per foot compared to other global cities like New York, London and Paris." The Miami Association of Realtors reported China accounted for 12.5% of all international searches on MiamiRealtors.com in February, up 72% from its percentage of searches in February 2022. Germany also moved up in the Miami search rankings, zooming from No. 17 in January to No. 3 in February.