Dealmaker: NewPoint Provides $21M Construction Loan in Milwaukee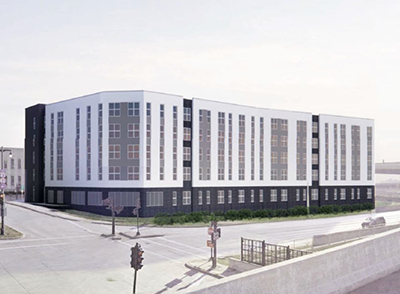 (Michigan Street Commons illustration courtesy of Kahler Slater Architects)
NewPoint Real Estate Capital, Plano, Texas, provided $20.6 million to develop Michigan Street Commons, a 99-unit affordable housing community to be built in Milwaukee, Wis.
Bear Real Estate Group, Kenosha, Wis. is developing the project, scheduled for a spring 2024 delivery.
NewPoint Managing Director Cesar Diaz originated the loan and structured the 4% Tax-Exempt Bond Financing. The Wisconsin Housing & Economic Development Authority issued three series of bonds, including one taxable tail. Raymond James syndicated the LIHTC equity.
Michigan Street Commons sits on the western border of a larger redevelopment that is a joint venture of Kacmarcik Enterprises and Bear Real Estate Group. The team plans an 11-acre mixed-used sports and entertainment district called Iron District MKE that will include a hotel, event space and a soccer stadium serving the USL Championship League and Marquette University.
Located adjacent to Marquette University, Michigan Street Commons will rise on the southwest corner of W. Michigan Street and N. 10th Street on a vacant infill location that currently contains a parking lot. The five-story mid-rise property will have 48 one-bedroom, one-bath units and 51 two-bedroom, two-bath units. Nearly one-third of the units will be affordable at 50% of area median income, 40% will be affordable at 60% AMI and the remaining 30% will be affordable at 70% AMI.
"While there was a high level of backing for this project from the state and local government, getting all the puzzle pieces in place on a timeline that supports the developer is a demanding task," said Rob Wrzosek, President of Affordable Strategies at NewPoint.
Michigan Street Commons represents the second financing NewPoint provided to Bear Real Estate Group, having recently provided $12 million in construction funding to develop a 54-unit LIHTC property in Madison, Wis. in December 2022.