Rent Growth Slows 7th Straight Month
Redfin, Seattle, reported the median U.S. asking rent rose by just 4.8% year over year to $1,979 in December—the smallest increase since July 2021. Despite the slowing, the report said rents grew at more than three times that pace one year earlier.
December also marked the seventh straight month in which annual rent growth slowed and the fourth consecutive month of single-digit rent growth following nearly a year of double-digit increases. Rents fell 1.4% from a month earlier and were down 3.6% from the August peak of $2,053.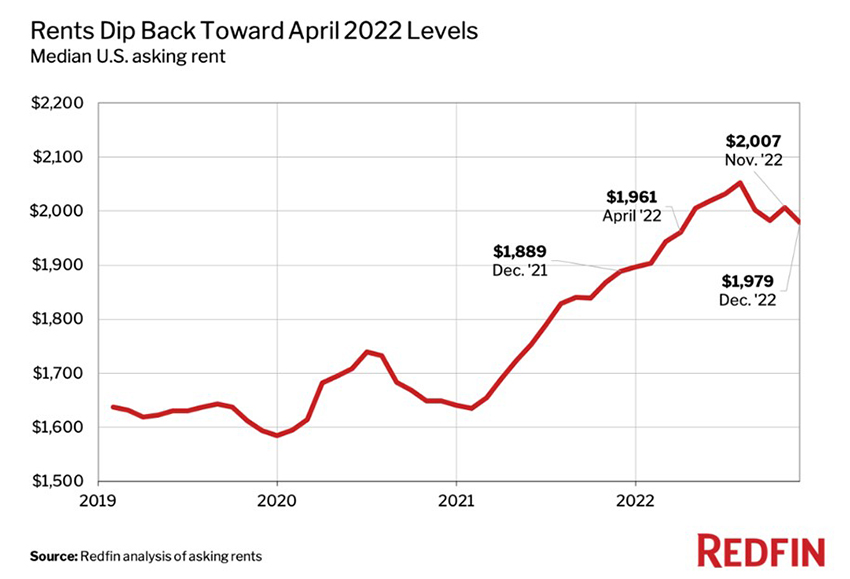 Redfin Economics Research Lead Chen Zhao said persistently high rental costs, inflation and economic uncertainty continued to dampen rental demand at the end of 2022.
"Rents have room to fall. While they've cooled significantly from their peak, it still costs the typical renter 20% more to take on a new lease than it did two years ago," Zhao said. "An increase in the number of rentals on the market should also cause rents to ease in the coming months. Rental supply is growing due to an influx of construction in recent years, ebbing household formation and a slow homebuying market, which is driving many homeowners to rent out their properties rather than sell."
"A lot of sellers are turning to the rental market because they're still having trouble wrapping their heads around the fact that they're not going to get sky-high offers like they would have at the height of the pandemic homebuying frenzy," said Josh Felder, a Redfin real estate agent in the Bay Area. "Some sellers are reluctant to drop their price, even when their home has been sitting on the market for a long time. I've had two sellers recently decide to rent out their homes because they couldn't get the price they wanted. Both homes were listed for over $2 million."
The report said in Minneapolis, the median asking rent declined 8.5% year over year in December, the largest drop among the 50 most populous U.S. metropolitan areas. Next came Oklahoma City (-6.4%), Phoenix (-5%), Houston (-4.6%) and Milwaukee (-4.1%).
In Salt Lake City, the median asking rent rose 29.8% year over year in December, the biggest increase among the 50 most populous metros. It was followed by Raleigh, N.C. (24%), Indianapolis (16.3%), Cleveland (14.6%) and Nashville, Tenn. (11.7%).