RealPage: Apartment Demand Turns Negative for the First Time Since 2009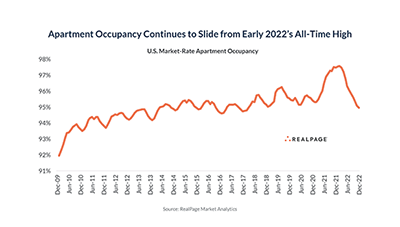 (Courtesy RealPage, Richardson, Texas)
RealPage, Richardson, Texas, said net demand for apartments finished 2022 in negative territory for the first time in years.
"But, unlike the last time demand went negative in 2009, renter turnover was curiously low in 2022," said Jay Parsons, RealPage Vice President, Head of Economics and Industry Principals. "Instead, the problem was at the front door: Demand for new leases all but evaporated due to low consumer confidence and high inflation."
In other words, Parsons noted, after a historic wave of household formation and relocations in 2021, Americans chose to mostly stay put last year.
"We've never before seen a period like this–weak demand for all types of housing despite robust job growth and sizable wage gains," Parsons said. "It wasn't just apartment demand that shot up in 2021 and plunged in 2022. The same pattern played out to varying degrees in other rentals and in for-sale homes."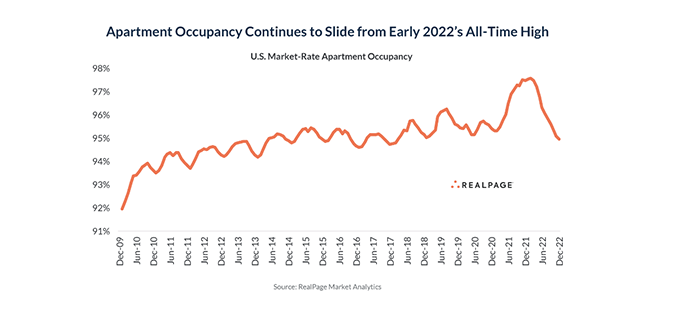 Parsons also addressed some other misunderstandings about weak rental demand:
–There was no massive wave of move-outs, he said. Renter turnover held at historically low levels last year. "Turnover is gradually normalizing, but it's still low," he said.
–There is no big jump in unpaid rent. Nearly 96% of market-rate apartment renters paid their rent on time in November.
–There is no significant trend toward renters doubling up in apartments. "That may occur later, but as the publicly traded apartment real estate investment trusts all reported in their last earnings call, it's not a major factor yet," Parsons noted.
–Finally, there's no flight to affordability, meaning renters are not moving down from more expensive units or pricey markets into more affordable units or markets. The drop in demand came across all price points and in essentially all markets, Parsons said.
Parsons said the main reason renters are staying put is simple: "Consumer confidence is low," he said. "According to the University of Michigan's consumer sentiment index, confidence dropped even lower in 2022 than it did during the Great Financial Crisis. Human nature is that uncertainty has a freezing effect. When you're uncertain, you're much more likely to stay put."