CoreLogic: Single-Family Rent Growth Falls Again
CoreLogic, Irvine, Calif., reported U.S. single-family rent growth slowed for the seventh consecutive month in November but said growth remains positive.
The CoreLogic Single-Family Rent Index said rental price increases dropped to 7.5% year-over-year in November, with all four tracked price tiers posting lower gains than a year earlier.
"An increase in single-family rental inventory is cooling price growth rapidly," said Molly Boesel, Principal Economist at CoreLogic. She noted November's annualized rent growth was the slowest since May 2021 and said two of the previously hottest markets, Phoenix and Las Vegas, posted the lowest gains among major metro areas.
"Looking forward, rent growth should continue to moderate and better balance market conditions," Boesel said.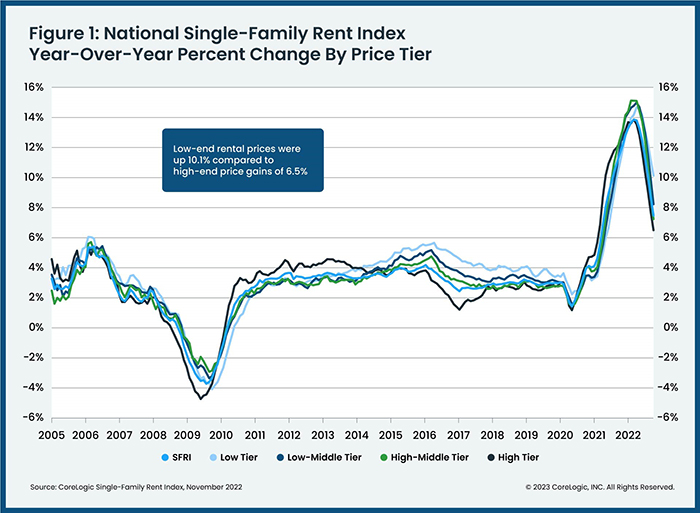 The report said Florida metro areas posted the nation's highest single-family rental cost gains in November.
"CoreLogic expects that rental price growth, along with home price appreciation, will continue to level off during the first part of 2023," the report said.
CoreLogic examines four tiers of single-family rental prices. National rent growth across the four tiers, and the year-over-year changes, were:
• Lower-priced (75% or less than the regional median): 10.1%, down from 10.9% in November 2021
• Lower-middle priced (75% to 100% of the regional median): 8.2%, down from 11.9% in November 2021
• Higher-middle priced (100% to 125% of the regional median): 7.2%, down from 12.5% in November 2021
• Higher-priced (125% or more than the regional median): 6.5%, down from 12.3% in November 2021
The report noted differences in rent growth by property type emerged shortly after COVID-19 took hold as renters increasingly preferred standalone properties in lower-density areas over a multifamily rental unit downtown. "This trend drove an uptick in rent growth for detached rentals in 2021, while the gains for attached rentals were more moderate," CoreLogic said. "As single-family rent prices continued growing rapidly, preferences for attached rentals began to emerge in early 2022, and by summer, they had higher increases than detached properties."
Attached single-family rental prices grew 8% year-over-year in November compared to the 6.5% increase seen in detached rentals, CoreLogic said.