Bank Commercial Real Estate Loan Delinquency Dips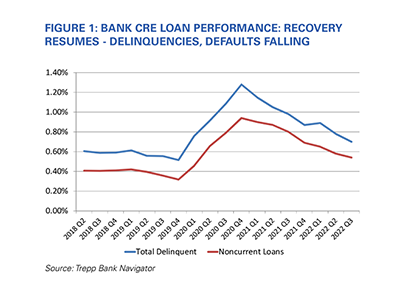 (Courtesy Trepp, New York.)
Trepp, New York, said delinquency rates for commercial real estate loans held by banks declined in third-quarter 2022 after increasing modestly earlier in the year.
"Bank commercial real estate delinquency rates improved in the third quarter, with declines in all the major property types," said Matt Anderson, Trepp Managing Director of Applied Data and Research.
Trepp examined bank balance sheet loan data totaling more than $180 billion for its third-quarter Anonymized Loan-Level Repository report.
Anderson noted the impact of higher interest rates has not yet appeared in bank's commercial real estate loan performance or in their pace of originations. "Nevertheless, price appreciation has slowed recently, and with recession fears looming, performance in the quarters ahead may not be as strong," he said.
Bank CRE origination volume remained strong in the third quarter despite some pockets of concern, "mainly in urban office and Midwest retail," Anderson said.
Commercial real estate loan delinquencies fell in the third quarter, resuming the recovery that began in early 2021, Trepp reported. "There had been a slight uptick in delinquencies in the first quarter of 2022 due to higher office delinquencies, but the recovery resumed in the second and third quarters," Anderson said. He added the overall bank CRE loan delinquency rate now stands at 0.70%, slightly lower than the 0.76% delinquency rate seen in early 2020 before COVID hit.
"The highest delinquency rates are in the lodging property type, which has been plagued by high delinquency rates since the onset of the COVID pandemic," Anderson said. "Sustained recovery has so far proven to be elusive, with decreases in the delinquency rate for one or two quarters followed by an increase. The delinquency rate did come down in the third quarter after an uptick in the second."
Retail sector delinquency rates have recovered "steadily but gradually" since late 2020, the report said.