Commercial and Multifamily People in the News Feb. 2, 2023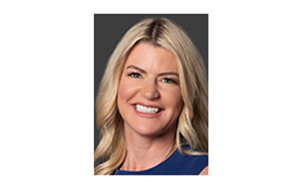 Kelli Carhart Appointed Leader of CBRE's U.S. Multifamily Platform

CBRE, Dallas, appointed Kelli Carhart Executive Managing Director and leader of Multifamily Capital Markets for the United States.
Carhart has more than 20 years of real estate industry experience and will lead CBRE's multifamily platform that combines investment sales and financing, as well as integrating with investment banking into a single, fully integrated service offering. She will oversee the continued expansion of CBRE's multifamily business nationally across five regions, with leaders appointed for each geography—Eli Hanacek (Northwest), Asher Gunter (Southwest), Danny Baker (Central) and Shea Campbell (Southeast). A leader for the Northeast region will be announced ina the coming weeks. The regional leaders will continue to lead their local practices in their respective market, with the expanded leadership responsibilities in addition to their current production roles.
Based in Austin, Texas, Carhart joined CBRE in January 2021 and was most recently Head of Multifamily Debt Production. Prior to joining the firm, she spent 17 years at Freddie Mac where she served as Vice President of Multifamily Production and Sales, overseeing over $30 billion of annual volume across 26 states.
Carhart succeeds Brian McAuliffe, who after ten years leading CBRE's multifamily practice has transitioned into a national production role as a Vice Chairman, focused on special multifamily assignments.
Greystone Promotes Rich Martinez to Head of Agency Lending Production

Greystone, New York, promoted Rich Martinez to Head of Production, Agency Lending, after joining the firm in 2022 as Executive Managing Director, Multifamily Sales & Production. In this new role, effective immediately, he will lead all Agency loan origination efforts, particularly market-rate multifamily for Fannie Mae and Freddie Mac.
Prior to joining Greystone, Martinez served as Senior Vice President of Production & Sales at Freddie Mac, where he worked for more than 34 years in various roles. While there, he worked across a variety of asset classes and geographies and gained a holistic view of the national multifamily landscape.
JLL Adds Chad Coluccio as Managing Director
JLL Capital Markets, Newport Beach, Calif., hired Chad Coluccio as a Managing Director in the firm's Orange County office. He will partner with Senior Managing Directors and co-leads of JLL's national loan sales platform, Sean Ryan and Will Sledge, as well as Senior Managing Directors Tom Hall and Brett Rosenberg, to source, evaluate and execute performing and non-performing loan sales, REO portfolio sales and distressed debt opportunities across all property types.
Prior to joining JLL, Coluccio spent 13 years in a similar role at Mission Capital Advisors, where he was responsible for closing billions of dollars in loan sale transactions across the asset class and performance spectrums. His clients include commercial and regional banks, insurance companies, credit unions, debt funds, CMBS special servicers and private equity / hedge fund firms. During his 23-year career in commercial real estate, he's also had experience asset managing loans for large banking institution portfolios and originating loans for commercial mortgage brokerage firms.