January CMBS Delinquency Rate Falls Below 3%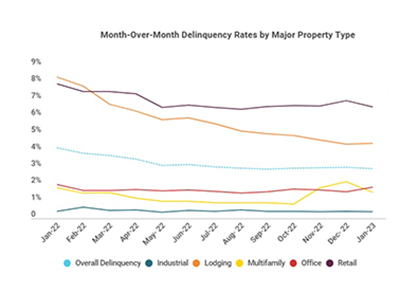 Trepp, New York, reported the U.S. commercial mortgage-backed securities delinquency rate fell 10 basis points in January to 2.94%.
The overall CMBS delinquency rate is down 124 basis points from January 2021, Trepp said in its January CMBS Delinquency Report.
The CMBS delinquency rate peaked at 10.34% in July 2012. It reached 10.32% in June 2020 during the COVID-19 pandemic,
"The narrative in the commercial mortgage-backed securities market since last summer has been that CMBS loans will not be easy to refinance in the current higher-interest-rate environment and those delinquencies will have nowhere to go but up," noted Manus Clancy, Senior Managing Director with Trepp. "However, for the last several months, the delinquency rate has seen only de minimis increases and now, January 2023 data shows the rate decreased."
Clancy said for now, "the data stands in contrast to the concerns put forth by many in the CMBS market over the last six months."
Trepp Research Analyst Vivek Denkanikotte said CMBS defeasance volume reached $11.9 billion last year, well above 2021's $9.1 billion volume.
"Defeasance activity typically increases during periods of declining interest rates," Denkanikotte said. "That's when borrowers typically seek out early refinancings. Low-interest rates often also result in higher property values, which could prompt borrowers to sell them or increase the amount of debt against them."
Denkanikotte noted interest rates stayed relatively low early in 2022, which drove strong defeasance activity. "Defeasance volumes remained relatively strong until October, when they plunged by half," he said. But when the five-year Treasury's yield increased to 4.18% in October from 3.63% in September, "the wind was then taken out of the defeasance sails. Only $10.45 million of loans were defeased in November," he said.