GSE Leaders Join MBA #CREF23 Speaker Lineup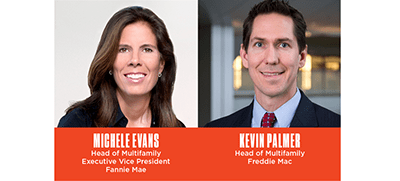 Come to MBA's Commercial/Multifamily Finance Convention & Expo 2023 to hear key leaders, including the Head of Multifamily from both Fannie Mae and Freddie Mac, share their insights on the multifamily finance ecosystem and ongoing policy priorities that shape the way forward for our industry and communities.
Thousands of your commercial and multifamily real estate colleagues will be in San Diego for the MBA Commercial/Multifamily Finance Convention & Expo, Feb 12-15, 2023.
MBA CREF is the industry's largest event of the year for commercial and multifamily finance professionals. Join us for unrivaled access to thousands of your peers, clients and potential customers. Gain insights from key industry leaders, CEOs and expert panelists representing every facet of the industry on the regulatory developments, trends and strategies to succeed.
Whether you are new to the industry or a seasoned professional, everyone should be there, including:
Commercial and multifamily mortgage bankers, loan producers, investors and servicers
Pension fund advisors and life insurance company investment officers
Conduits, commercial banks, savings banks, credit corporations and other lenders
Fannie Mae, Freddie Mac and FHA originators, seller-servicers and mortgagees
Investment banks and Ginnie Mae issuers
Loan underwriters, credit officers, analysts, data providers, guarantors, service providers and other professionals
Asset management personnel, correspondent servicers, loan closing personnel, master servicers, portfolio management personnel, primary servicers, sub-servicers and special servicers
Post-closing service providers and technology vendors
Attorneys, trustees, advisors and other market participants