CBRE: Finance, Insurance Firms Signed More Large Leases than Tech Industry in 2022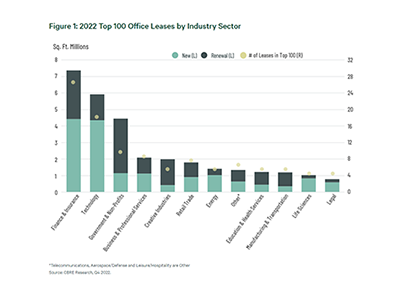 The finance and insurance industry supplanted the tech industry last year for the largest share of the top 100 largest office leases in the U.S., reported CBRE, Dallas.
CBRE said finance and insurance companies claimed 25 of the largest 100 office leases last year by square footage, up from just 12 in 2021. Tech companies accounted for 17 of the largest 100 leases, down more than half from 36 in 2021. Tech had led in overall U.S. office-leasing activity from 2013 until last year.
"That finance and insurance firms leapfrogged technology firms in large leases underscores the tech industry's pullback after years of strong growth before and during the pandemic," CBRE said in its Intelligent Investment report. "Meanwhile, finance and insurance has generally recorded higher office-attendance rates than tech."
Other industries that expanded their share of the largest 100 leases last year include business and professional services (eight leases in 2022), creative industries (five), retail trade (seven), energy (five) and manufacturing and transportation (five). Those that registered fewer of the top leases in 2022 than in 2021, in addition to tech, include government and nonprofits (nine), life sciences (four) and legal (four), CBRE said.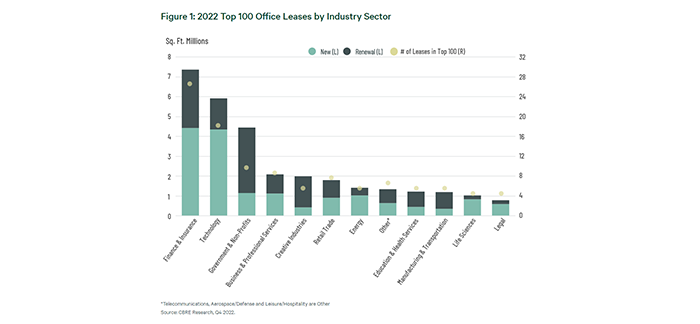 "The inclusion of a wide range of industries among the largest 100 office leases shows that the office remains a cornerstone of hybrid work for many professions," said Whitley Collins, CBRE Global President of Occupier Advisory & Transaction Services. He noted a possible recession could slow leasing in the short term. "But, in the longer term, the need to provide offices that support the future of work will continue to drive leasing activity," he said.
By region, the Northeast accounted for most (31%) of the largest leases, followed by the Pacific states (21%). On the metro level, Manhattan, northern Virginia and Silicon Valley led with the most square footage among their leases in the largest 100. Manhattan in particular benefited from its standing as a finance capital; seven of Manhattan's 18 big leases went to finance and insurance companies.
"Firms that are confident of their business model and understand how to balance in-person and remote work knew that 2022 presented a market opportunity for aggressive transactions in office space," said Mary Ann Tighe, CEO of CBRE New York Tri-State. "In the midst of uncertainly, those firms saw opportunity and seized it."
The percentage of the largest 100 that were new leases declined to 53% in 2022 from 61% in 2021. "That might be due to large companies avoiding the higher interest rates and construction costs of a move by instead staying put and renewing their expiring leases," CBRE said.